When the idea to stage an international, multi-day conference in Bern was born back in 2018, we didn't know how things would turn out, and that we'd need to change our plans upside down. From a four-day live event format, the conference turned into an e-format and was live-streamed from Bern, Switzerland from 28–30 August 2020.
We worked closely with destination Bern – the Bern Convention Bureau, Switzerland Convention & Incentive Bureau and local hotel partners where the sessions were filmed: Hotel Schweizerhof Bern & THE SPA, Hotel Bellevue Palace Bern and Kongress + Kursaal Bern AG. 
Full destination spotlight video
Switzerland is a premium country for meetings and events. It has a long tradition of neutrality and political stability and is known to be highly efficient, precise, clean and with substantial landscape variety. Further, it has the lowest VAT rates in Europe and a high commitment to sustainability.
Some examples of this sustainability approach include the 'Grand Tour of Switzerland', which can be done by e-car with charging stations along the route. There are products made from recycled materials, and attendees can visit the factories of these products or a national park to become involved in corporate volunteering. It's a country that's easy to get to and move around by public transport. 
I interviewed Bettina Mumenthaler, Head of the Switzerland Convention & Incentive Bureau UK/Ireland about Switzerland as a MICE destination. The Switzerland Convention & Incentive Bureau (SCIB) is the first point of contact for all event planners who have any question about Switzerland or need any assistance with planning their events, from the smaller to a more complex enquiry. The SCIB can provide contact details, organise site inspections and give recommendations for venues and suppliers in an unbiased manner. The SCIB has a presence in 14 markets.
Watch the full interview with Bettina Mumenthaler, Head of the Switzerland Convention & Incentive Bureau UK/Ireland here:
The first stop on the site visit was Hotel Schweizerhof Bern & THE SPA, and I interviewed Maximilian von Reden, General Manager.
Hotel Schweizerhof Bern & THE SPA
Hotel Schweizerhof Bern & THE SPA has 99 rooms and suites; 12 are suite rooms. The hotel is housed in a historic building, and the shell is 161 years old. Between 2009–2011, the property was completely refurbished and reopened in 2011.
Hotel Schweizerhof Bern & THE SPA has a tradition with a new luxury approach. It is a MICE-oriented property in the city portfolio, and the renovation allowed the hotel to position itself in a clever way in the Bernese market. According to Maximilian von Reden, 'You build on your reputation and maintain the beautiful facade yet give it modern touches. As we know today, modern luxury has evolved. It's not so much the amenities, the silver plates and white gloves; it's more about the experiences. Being in such a property, working with the history of the property and giving it that modern touch is something that intrigues me, and I'm excited to be at the helm of such a property.'
On the food and beverage side, the hotel has Jack's brasserie, also known as the 'Bernese institution' and is named after the father of one of the previous owners of the Gauer family, a veteran hotelier family in Switzerland. The lobby lounge bar is a 'meeting place' because it's close to the train station and easy to access for those coming by train even for a meeting. It's also a popular location among the local community to unwind and enjoy a good conversation. 
The cigar lounge is adjacent to it. In Switzerland, smoking indoors is allowed in designated areas. There's also a Sky Terrace on the top floor with a 360-degree view of the city, the Alps, the Berner Oberland and the Emmental. This terrace operates 10 months a year. For 5 months, it's open air and serves Jack's classics, and during winter there's a heated construction where guests can have a traditional Raclette and Fondue experience with a view over the city—seeing the rooftops capped with snow is very beautiful. Bern is one of the most Instagrammable cities during winter. Furthermore, CNN has voted the River Aare as one of the world's top swimming spots. 
The Belle Etage is the banquet facility, with conference rooms located next to each other. The rooms have natural daylight and very high ceilings.
Commitment to sustainability
The Hotel Schweizerhof Bern & THE SPA was one of the first properties in Switzerland to have beehives installed on the roof, producing their own honey. They also have an internal committee—'the green busters'—who meet on a monthly basis and propose initiatives to increase sustainability; some of these proposals include reducing plastic bottle and paper usage. Maximilian Von Reden added, 'It also developed because our workforce is very young, and I believe that the younger generations are highly focused on sustainable employers; it is very important to them.'
'We are also part of "My Climate", a Swiss organisation that was one of the first to offer climate-neutral overnights. We also do local activities. There's a reduction of food waste that we are engaged in. For example, the hotel has its own salt, mixed with leftover vegetables that is served at Jack's Brasserie and offered as a giveaway.' 
Hygiene and protection measures to ensure guests' safety
Maximilian Von Reden commented, 'Internally, for our colleagues and associates, we've conducted intensive training and are providing them with the necessary security gear. We are also practising social distancing in our back offices, changing rooms and staff dining rooms and have disinfection stations. We have also increased, in both back and front of house, the intensity of cleaning and disinfection rounds.' 
'In the front of house, the Federal Office of Public Health is issuing very strict guidelines, and the cantons are in charge of double checking them. Since day one, our staff have been serving our guests with protection masks. Cleaning measures have been increased, and disinfection stations are offered throughout the property. We have cleaning protocols for the guest rooms that have been amended. We are also limiting access to certain areas for a specific number of people and have extensive contact tracing; by law, we need to register everyone who enters the building.'   
The hotel has a 'Clean & Safe Label' certification. This certification is an initiative of Swiss Tourism, which has issued particular standard guidelines that need to be fulfilled in order to obtain this endorsement.
Talking about current trends, Maximilian Von Reden commented, 'Right now, due to COVID-19, there are definitely requests for social distancing, so we see people sizing up the meeting rooms. Everyone at this stage is concerned with being associated with a "spreader event". In terms of catering, there's a demand; rather than having a buffet accessed by a large number of people, it's more plated, individual food that is required. We're offering bento boxes or doing plated coffee breaks. That way, we can cater for and meet the needs and demands of our clientele.' 
'Another trend is shorter leading times. Not only with the meeting rooms but also the guest room bookings. We've never seen so many walk-ins, which we have had to adapt to. I think that people are thinking twice before they travel, but when they do, everything needs to be very fast.'
MICE Business at Hotel Schweizerhof Bern & THE SPA
Pre COVID-19, approximately 800 events took place at the hotel annually. Bern is the Swiss capital; hence, government business, association meetings, banking and consulting are the core business.
Maximilian Von Reden shared, 'Mainly, we host meetings and conferences, and despite what is going on, meetings have picked up again. There was the worry that up to eight-people meetings will disappear and will use some of the modern technologies, but we do feel that the need and desire to meet in person still remains, and that is something that we see very positively.' 
When hosting an event in Bern, it's recommended to also include some incentive activities. 'I think if you have intense meetings and discussions, there should also be a leisure or team building aspect to it.' There's the opportunity to do chocolate workshops or perfume making, for example. There's also in the immediate vicinity of Bern itself interesting activities that can be done; there's a Rolex factory and a cheese factory. There's the Emmental for hiking and e-biking. There are various options, and the good thing is that these options are within a 20–30 minute drive and can be very easily organised.'
James Bond movie was filmed in Bern
One of the most famous attractions in the city is the legacy of the 1969 James Bond movie 'On Her Majesty's Secret Service'. Several scenes were shot in the hotel's lobby and room number 411, where James Bond was seen on the balcony of the office of Mr Blofeld—it wasn't a hotel in the movie.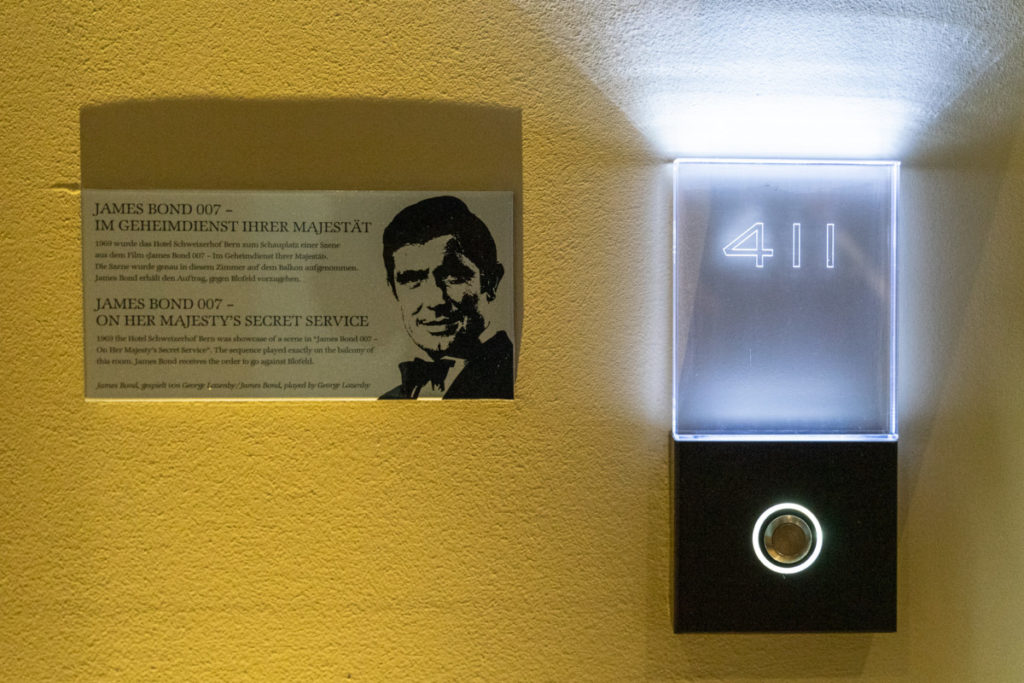 Many famous people have visited the hotel. There's a feature representing some of them in Jack's Brasserie, with small golden nameplates of the people who dined at the restaurant.
Schilthorn Cableway AG
One of the nearby attractions to Bern is the Schilthorn, and I spoke to Samuel Bohren, Sales Manager at Schilthorn Cableway AG about this unique venue. The Schilthorn is also particularly popular among James Bond enthusiasts because filming substantially influenced how the site was constructed and helped to develop tourism at the destination.  
Samuel Bohren told me about the first years of the Schilthorn Cableway, from 1961–1968, before filming of 'On Her Majesty's Secret Service' began, 'The whole area of tourism started to grow in the late 1890s; by then, it was a vision to connect the village with the mountains around, so it was a goal to make the cable car up to the Schilthorn. It was a long process involving many discussions. In the end, they began to build the cable car in the 1960s, and it opened in 1967. But at that time, construction of the peak building was lacking because the cable car was very expensive, so there were minor financial problems. However, there was a strong will to complete the entire project as it was forecasted because it would be the first rolling restaurant in the Alps as well as the longest cable car in the world at that time.'  
'Therefore, while construction was delayed due to financial concerns, the producers of the James Bond movie were scouring the Alps to find suitable locations. They went to Grindelwald and were talking to a concierge, who told them about the Schilthorn project and that they would build a peak building up there. As a result, the person who was scouting the location arrived there, fell in love immediately and made a phone call to London to say that he had found the perfect location and that they should come and see that. They came for a visit, and that was it.'
'Because the peak building wasn't finished, the deal was that the filming company could influence how they wanted to complete the entire construction. For example, they added the heliport, which is now the viewing terrace. The Schilthorn gave the construction company the rights to film for half a year and have it exclusively for them in order to complete it. Then, after the filming was completed in May 1969, the whole building was transferred to our company.'
The filming influenced the site and remains an integral part of the visitor attraction, allowing visitors to follow the steps of James Bond. Once visitors arrive on the top, it's all about James Bond. Samuel Bohren shared, 'The Schilthorn was called Piz Gloria in the film, and we still use this name because that's the name in the mind of Bond fans.' 
Visitors can follow the footsteps in the interactive James Bond exhibition and learn about the movie and behind the scenes. There are nice backdrop stories about people who acted in the movie, and local people also tell their stories. It's an interesting exhibition not just for Bond fans but also for non-fans to learn more about the entire filming process. Filming 50 years ago was very different from today, without any computer techniques.
'Then, we have a James Bond Bar, where you can drink your Martinis. We also have 007 Burger, which gives you that little flair once you are on the top. And lastly, on our middle station, we have the topic of Thrill, which offers nice viewing platforms and the thrill walk so that guests can imagine themselves as James Bond walking around the cliff.'
Events at the Schilthorn  
It's possible to organise events at the Shilthorn. The restaurant on the top has capacity for 300 people and 240 spaces in the outer ring, which is a revolving restaurant enabling 240 people to turn around once there.
When visiting during the day, the guests share the location with other visitors. Hence, it's possible to book, for example, an excursion and have breakfast or lunch. On the other hand, it's also possible to rent the venue exclusively in the evening and have tailor-made events on the mountain top. Samuel Bohren added, 'It's definitely nice to have the mountain top for yourself, and that's really unique. We usually offer guests the peak building for the entire evening for exclusive hire without any additional costs. There's also the possibility to rent the whole building for yourself for larger events during the day, but there's a buyout charge.'
Considering that it's on the top of the mountain, the delegates need to arrive by cable car, and all the logistics are different than in a congress hall. Samuel Bohren suggests that 'It's important, once someone considers having an event with Schilthorn, to come to a site inspection to get to know the whole handling of the event. On the other hand, it's really unique—the client does an evening event and has the sunset up in the mountains, and it's breathtaking.' 
'The easiest way to arrive is to meet in Interlaken. The guests can come by train, but with a group, we usually suggest taking a coach, which brings them to the cable car station and takes them up in the cable car for half an hour, and the group arrives at Piz Gloria and the Schilthorn.' 
It's possible to visit Schilthorn and host events there all year round. It depends on what the client is looking for, 'We do a lot of Christmas dinners when the sunset is not as late as in the summer. On the other hand, the summer days are longer, so it's also very nice, and the weather is usually more stable, which provides the client with more security, weather wise. It's doable all year round because it's both indoors and outdoors. We tailor make everything for the guests. It can be a James Bond- or casino-themed event, just to name a few, and we also had concerts there. We try everything to make it possible. Most of the guest were going down in the cable car in the evening with a big smile on their face.'
Samuel Bohren added, 'We are also a ski resort during winter; hence, we have requests for ski incentives, especially from the Nordic countries, so that's also possible to do. The most popular event requests during the day are brunches and lunches. That's usually standard for companies when offering excursions, or they have a conference and want a half-day programme, from Interlaken or Bern, so it's possible to have it during the day.'  
Schilthorn is easily reachable from Bern or Interlaken. From Interlaken, it takes only half an hour by coach, and from Bern around 90 minutes to the Valley station. From Interlaken, it can be a half-day excursion, and from Bern a day excursion. 
COVID-19 measures
The Schilthorn is following the COVID-19 guidelines from the Federal Office of Public Health. 'There are disinfection stations all around the building, and we are cleaning at higher frequencies. In our restaurants, we installed Plexi shields between the tables. It looks nice because they are half made of wood, so it gives more privacy to your guest group. In the cable car, as in all public transport in Switzerland, you need to wear a mask. Our staff are wearing masks for their own and their guests' safety. We do everything required and everything that we can. We also have the 'Clean & Safe Label' from Switzerland Tourism.
COVID-19 has impacted group events. Samuel Bohren shared, 'At the moment, it's more smaller groups as the main focus is Switzerland, so we get company day trips. When it comes to an exclusive event in the evening, we can ensure that there's more distance between the chairs and tables. There's also a possibility to do outdoor events.' 
'Due to the new situation, we need to be more flexible. The bookings are rather short term because we don't know what will happen in the near future. The key at the moment is to be flexible. We see an increase in online bookings, and people inquire more—they want to be on the safe side, which is also a good thing for us so we can plan everything up to their needs.'  
Hotel Bellevue Palace Bern
During our time in Bern, we stayed at the Hotel Bellevue Palace Bern, one of the most important properties in Switzerland due to being a regular government-event host. I interviewed Urs Bührer, General Manager of the Hotel Bellevue Palace Bern.
Since March 2020, we've seen a rapid acceleration across all areas of hospitality. According to Urs Bührer, 'Everything goes more quickly. Technology changes, mindset changes, so you really need to adapt all the time. What in the past took 10 years, now it's taking two years. So, you are changing all the time and asking yourself what you could do differently for the client.' 
Urs Bührer discussed the building's history, 'The hotel itself is from 1865. There was a hotel here before on three properties, which were knocked down in 1911, and they built the Bellevue Palace in 18 months. That was the first completely concrete building in Switzerland. It was the absolute state of the art at that time, and they opened in Autumn 1913. In 1914, the first world war began, so that was highly challenging at the time—many hotels closed, and tourism stopped. The situation was similar to what we currently have with the COVID-19 pandemic, with the difference being that the hotel stayed open during the first and second world wars.'  
'A hotel like this that is over 100 years old needs to be continually renovated—a permanent process. What makes it challenging is that it's a listed building. Bern is UNESCO world heritage. For example, our bar is a listed room—we can't touch anything. We have 126 guest rooms and 16 function rooms; the biggest one is Salon Royal, which can host about 300 guests for conferences.'
The hotel has three restaurants. 'Bellevue Brasserie is on the terrace. For two years, Numi has been operating, providing modern world food with an open kitchen and a DJ—fun and different in design to other parts of the building. Finally, we have the Bellevue Bar, which is iconic as well.'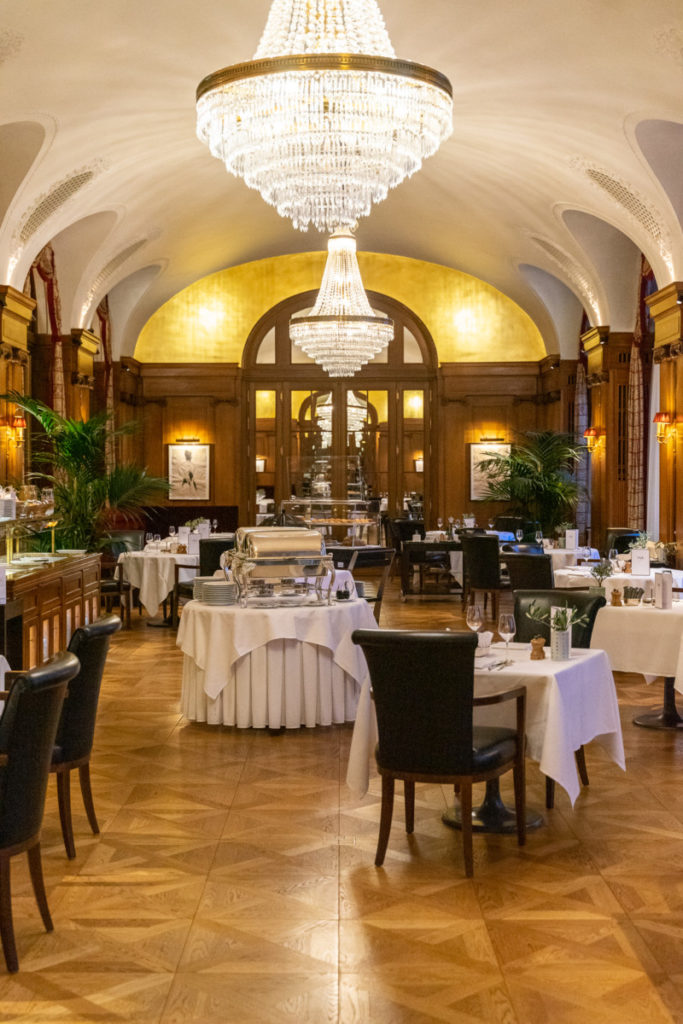 In 5-star hotelerie, particularly right now, it's about providing exceptional and attentive customer service. Urs Bührer commented, 'I'm of the opinion of going back to the roots—to be personalised, present, hands on and visible. Every client is different, so you need to talk to your client, and then you have to adapt. Everyone in the hotel is part of it; we need to notice when a guest has a birthday and requires special service. The key is personalisation.' 
COVID-19 measures 
Hotel Bellevue Palace Bern is applying all hygiene and protection measures guidelines of the Federal Office of Public Health. Urs Bührer shared, 'We follow the laws, which are strict. The legislation is changing all the time in Switzerland. Even before COVID-19, we had a high level of hygiene. We belong to the government, and we are an example to others—it is very important to provide a safe environment for the client. Everyone is wearing masks in the hotel. We are preparing with gloves, and we clean more than what we did before to offer a higher level of safety for clients. All staff have now become used to these new procedures at the very high level.'
MICE at Hotel Bellevue Palace Bern
On the MICE side, the hotel is very much food and beverage focused. Urs Bührer shared, 'We do by far more than 50 percent in food and beverage. In normal times, our events team does more than 2,200 events per year.' 
Bern is the capital. Hence, there's a lot of administration, public administration and association events, many of which are related to the parliament, 'We do events from 1000 attendees to 2 VIPs in a small boardroom.'
'One of the main trends that we see currently with events in light of the COVID-19 pandemic is that the client requires more space. We have also adapted our catering accordingly. Everything involving flying cocktails, buffets and so on we don't recommend to guests. We do seated cocktails, a cocktail in one room and dinner on the other side, seated. So, people can still mingle around and do their networking. We do buffets, which work well but are highly protected. We serve the guests and have cloche protection on the food.'  
Commenting on the current trends, Urs Bührer shared, 'Event planners need to learn to live with the situation, which I think we have all begun to do and have found our way around. On the one hand, you have cancellations, and on the other hand, suddenly people are saying, "let's come tomorrow". Yes, we can do it, no problem. That's the new situation, everything short term, last minute.'  
Kongress + Kursaal Bern AG
Last stop for the tour was Kongress + Kursaal Bern AG and an interview with Carmen Fuchs, Senior Sales Manager.
Kongress + Kursaal Bern AG is the biggest venue in Bern, with the largest event and exhibition capacity, and during normal times, it can accommodate 500–1000 people for an event. Apart from conferences and exhibitions, they have many general assemblies in Spring, Christmas parties or staff events from local companies as well as many private events, such as weddings or birthday celebrations.
The Kursaal is all in one property, with 28 meeting rooms and a hotel inside. The meeting rooms go from different sizes, the smaller one for two people to 1,500 people in the biggest one.
Carmen Fuchs shared, 'Most popular event requests are for the Arena, our biggest event space. We are the only venue in Bern to offer this large space capacity, and these are events with around 400–1000 people. Additionally, we provide in-house catering, and we work closely with our technology partner Habegger. They have their office in our building, so it's easy to communicate with them and everything goes very quickly.' 
The hotel has 171 rooms that were totally renovated and opened in November 2020. It also has two restaurants, offering Asian cuisine at Restaurant Yù and Italian cuisine at Restaurant Giardino, Bar & Lounge, and during the summer a pop-up rooftop grill.
Now, the Kursaal Bern has a new chapter, and its hotel, Hotel Allegro, has been fully renovated and rebranded to operate as Swissôtel Kursaal Bern. In November, it officially became Swissôtel Kursaal Bern with brand new rooms and design. Swissôtel is part of the Accor group, and the guests can benefit from the Accor network, reservation system and loyalty programme.
Apart from the branding, the Kongress + Kursaal Bern AG will receive the Swiss Hotel Quality standard, which is very high. Additional introduced benefits are the packages. Carmen Fuchs shared, 'We used the last few months to create packages. If the client organises a meeting at the Kursaal, they will get packages in the future. For example, if it's a coffee break, lunch and dinner, they can get one price per person, and with that, we hope that it will be much easier for them.'
We also work very closely with the Bern Convention Bureau. If the client wishes to attend a social programme for an evening or location, we give them the contact of the Bern Convention Bureau, who will organise everything.
Commitment to sustainability 
'Since 2006, we have been a member of the climate platform of the city of Bern and have already had 21 different projects there. Examples include e-car chargers on site and having our own Kursaal bees, who produce honey for our breakfast buffet. To reduced food waste, we have the KITRO scale, which measures our food waste. Any unused buffet food is put on that scale, which analyses what we have to do to produce less food waste. We also offer food waste boxes for clients.'
COVID-19 measures
Carmen Fuchs shared their measures for COVID-19, 'For us, it's very important that our staff is trained so that they can guide the guests about what they must do. Furthermore, we are in constant contact with professors from the university, who can provide highly useful assistance. They can tell us what we have to do and what we can't, what is allowed and what makes sense. We have disinfectant dispensers everywhere. We signed the space in front of the buffet, reminding customers about the required 1.5-m distance for people waiting there, and we try to do fewer buffets and more serving. Hybrid events are also important for us, so together with our technology partner Habbeker, we do that.'
Right now, considering the COVID-19 pandemic, event requests have also changed, 'We get a lot of requests with around 50 people where they need a bigger space. A critical topic is also the distance between each chair, with guests and clients wishing to have a distance of 1.5 m. In regard to catering, they request to have their coffee break items in bags.' 
Our Event Planners Talk e-conference was filmed across the three venues, and it can be seen how the spaces can be used for your live, virtual or hybrid events. All venues are within walking distance from each other and, therefore, it easy to manage logistically while optimising your time in Bern. 
Highlights day 1
Highlights day 2
Highlights day 3
Photos and videos: Thomas Loris