The pace of life style in London is so fast and hectic, there is so much going on, and therefore doing something which will take you away from your desk gives you bad conscious. But how about corporate away day in the beautiful English country side, where you can combine work and leisure? Sounds like a good excuse to me!
End of April Four Seasons Hampshire hosted Corporate Showcase and invited me to discover the property and incentive activities. After visiting their two London properties, in Park Lane and Canary Wharf and being a big fan of this brand, I was very happy to check out their famous country house estate. Inspired by the 18th century manor house, the building is a combination of British tradition and luxury surrounded by 500 acre estate.
The showcase started in the afternoon and on this occasion Four Seasons Hampshire has invited me to stay overnight. Without stress I made my way from London, taking a train from Waterloo and in less than one hour arrived at Fleet station, from where I jumped into a taxi and in 10 minutes was at the destination. After a very warm welcome and check-in I went out to get first glimpse of the impressive green surrounding before the showcase.
Catering
At the showcase we were offered a variety of freshly made canapés, oysters, cheeses and desserts. I personally like such food stations, because it gives you the freedom to choose what you want when you want it and chatting with the chef is a nice experience.
My friends from GC Couture were also present and did a cake decorating class. Since I did it twice already, I decided to skip but not the cakes of course and this time had the chance to try their "fruit without the bits" cake which seems to be very popular at the moment.
There was also a cocktail station, offering to taste local ale and a cocktail from locally produced Bombay Sapphire gin, raspberry puree, lemon juice and rosemary.
The breakfast on the second day was served at Seasons Restaurant and was lavish, including also a-la-carte menu. I didn't eat too much to stay fit for the active program ahead!
After our outdoor activities on the second day, which I tell you more about shortly, we had healthy lunch at the spa restaurant, Café Santé.
Event and Conference facilities
The showcase took place at the Four Seasons Ballroom Pre-function area and the Ballroom, the largest function room which can accommodate up to 300 guests in theatre style. Pre-function area has direct access to the terrace and ideal for sunny weather!
Four Seasons Ballroom
Beckington Room
Shrewsbury Room
Incentive and teambuilding
The hotel is surrounded by 500 acre estate and you have a variety of activities to choose from on-site, such as the Highwire Adventure, including 24 element high ropes course, a 13 metre 'Power Fan' free-fall parachute experience and a 235 metre zip wire 'The Descent' that enables you to fly out across the parkland. I did something very similar before and it is very fun when you are in a team, competing against other teams and members support each other at different tasks. It is a good exercise for teambuilding and improving group dynamics.
Something very unique Four Seasons Hampshire offers is Falconry. I absolutely loved this activity and can do it over and over again. In the introduction to falconry I learned about the different birds and could even feed them. These birds are fascinating. The whole experience takes about 15-20 minutes – so that can be done during a break or as part of other activities.
The team had more in store for us, archery and clay pigeon shooting, but I decided to relax and enjoy the peaceful moment on the terrace!
The showcase ended at 8pm and the good news is that the spa is open until 10pm, so that was my program for the rest of the day, before the early wake up the following day. My boyfriend joined me in the evening so the following day we can explore the area together.
In terms of activities there is something for everyone on-site, and there is plenty to do around, too.
Rooms
The hotel has 111 guest rooms and 22 suites. I greatly appreciated all the amenities, the large selection of mini bar beverages and they even have a Nespresso machine and cold milk.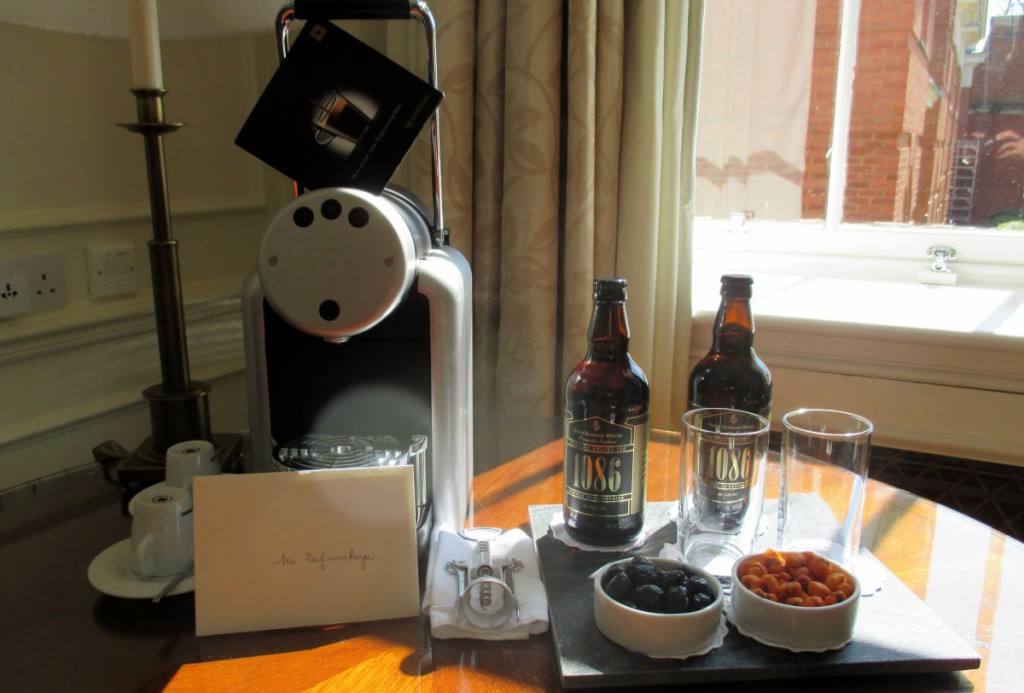 Fitness and outdoors
The hotel gym has an extensive class offer including spinning, yoga, aerobics and a boot camp style outdoor fitness class. After breakfast we decided to do the outdoor class which was fantastic. We walked towards the pond and after a short warm up did exercises on the grass. It was exhausting at first but being outdoors is so energising and refreshing so you feel great! Why not considering it as a team building activity?
After this class we rented hotel bikes and cycled around the estate and along the canal. The scenery on our way was so peaceful and relaxing and the total trip took us about two hours and we came back to the hotel for lunch before heading back to London.
It was a rewarding experience and amazing how many activities you can do in a short period of time. I know that we, event planners, tend to sometimes fill every single hour with activity but if you choose Four Seasons I recommend leaving some free time for attendees to do what they want and just relax. Finishing the program early in the evening will let them enjoy the spa and fitness and starting late the following day will allow them to enjoy a long breakfast, have a fitness or spa session or participate in one of the classes.
As always, Four Seasons kept to their highest standards and it was very rewarding and relaxing get-away from London and I came back energised and motivated. Until next time!