In recent years I've developed an interest in art, architecture and design. My interest deepened in large part from working with MICE (Meeting, Incentive Travel, Conferences and Exhibitions) destinations and venues that focused on these topics. Through site visits, interviews and conversations, I was able to familiarise myself with prominent names and works in the architecture and design world.
A prime destination for art and architecture is Basel, Switzerland. It's a city with world renowned museums such as the Kunstmuseum Basel, Fondation Beyeler, Museum Tinguely and many others and is a base of several prominent architecture bureaus such as Herzog and de Meuron, the designers of Messe Basel, Beijing National Stadium and Elbe Philharmonic Hall. There's a major street art scene in Basel, and Basel is the host of the world famous event, Art Basel. It sparked my interest in event venues and the experience itself opened my eyes to all the possibilities of this new world.
After learning about Art Basel, I set a goal to attend it. One of the world's most important international art fairs, this inspiring event pushes the boundaries of creativity and design, showcases new artistic work, uses the entire city as a big and colourful gallery and presents innovation and trends that many industries can learn from. This year, Art Basel took place from 16 to 19 June. I visited it over two days and I'm thrilled to share with you all my insights.
I took the train from Heidelberg and had a very smooth journey. Basel has great connectivity within Switzerland and neighbouring countries Germany and France. The train stop Basel Badischer Bahnhof is the closest to the main event venue, Basel Exhibition Center.
I have many impressions to share from this visit, and considered categorising them into topics, but decided to describe the chronological highlights of my 24 hours in Basel so you can see the journey through my eyes.
This trip was part of a media collaboration with the Basel Convention Bureau and Congress Center Basel. 
Upon arrival I had lunch at Art Events at the Congress Center Basel which was hosted by Expomobilia. They are part of the MCH Live Marketing Solutions AG group, and operate as a global general contractor for trade fair booths, pavilions and event structures. During this lunch reception they presented their sustainable modular expo design system made of oak wood with their partner EECS.green. 
Afterwards I viewed the event spaces at the Congress Center Basel and continued on to the Design Miami show.
Here are event design ideas inspired by my visit to Art Basel 2022.
Create an inviting entrance with light design 
Illuminated by interactive lighting installation Pulse Topology, the foyer to Design Miami caught my attention straight away. This impressive installation was 'activated' by the human pulse, to demonstrate the human centric approach to technological innovation. Designed by Mexican-Canadian electronic artist Rafael Lozano-Hemmer, Pulse Topology was presented by Superblue and BMW i. According to Lozano-Hemmer in his interview with BMW, 'The installation is composed of 6,000 glimmering light bulbs, suspended at different heights, which create an intimate landscape of crests and valleys that visitors are invited to traverse.' Read the full interview here. 
Place books about the event subject at your event
That inspiration comes also from Design Miami where a collection of art and design-themed books were presented in front of the entrance to the event. 
If you are a book lover like myself, this section would have caught your attention immediately. Such a space can enrich the visitor experience at a given event. 
For example, if your event is about sustainability, you can educate and inspire visitors by curating a space for books which showcase the wide spectrum of sustainability. 
Sustainability was an important talking point at Art Basel
The entire exhibition conveyed the need for awareness of climate change and the urgency of sustainability. Sustainability encompasses not only environmental matters but also cuts across a wide spectrum of our lives, best explained through the 17 Sustainable Development Goals by the United Nations. 
In keeping with this theme, Art Basel had implemented measures to conduct a more sustainable fair and explained these practices on their event website. 
At Design Miami Basel, one of the sustainability themed exhibits that stood out was VELENI by Particle.Art. Consisting of a collection of 12 glass sculptures, VELENI allowed the viewer to visualise the pollutants generated by our lives; toxins which contaminate our waters and end up on our tables. 
As an attendee, you could direct your phone towards the glass sculpture, watch your mobile screen and via augmented reality, see how pollutants reach our food.
The use of augmented reality was a very powerful and bold means of educating attendees about sustainability and the urgent need to take it seriously, and was a more compelling way of delivering a message than a sales presentation or product demo.
The resurgence of QR codes 
The pandemic triggered a resurgence in QR code usage, and this usage also penetrated the event and marketing space. All the stands had a QR code which attendees could scan to receive more information about the exhibit. In my opinion, this was very convenient, and a great alternative to downloading an event app (which was also available). 
Audio experience 
Having an audio guide as part of an exhibition is a new experience for me. I assume most people are familiar with the audio guides at museums and destination tour guides, but not as part of a trade show. Art Basel has created an Art Basel Audio Guide on Sound Cloud to explain key exhibits at the show. Most of the audio guides are less than two minutes long and provide information about the artist and the exhibits. All audio could be conveniently accessed on the phone. You did not need to download the app to access the information. 
One brand activation stood out in particular. Unfortunately, I did not participate in this experience because I found out about it afterwards, but it's a beautiful idea worth sharing.
The sportswear brand On organised Art Walks for the public, but also had an exclusive hiking tour for hikers for a brand experience outside Basel. For virtual audiences, the brand designed an audio experience called Sound Walks, which is described by Dazed as '20-minute recordings that combine natural sounds and ambient elements triggered by motion to explore the connection between art, movement, and nature'. (On a side note, this is a great article about the entire On Hiking experience and the message that 'art isn't just for selling, or hanging on a gallery wall. It can also fill your stomach, make you feel like you're walking on clouds, and heighten your awareness of your natural surroundings.' I highly recommend reading the full article about this brand activation).
Public spaces
My favourite aspect was the vast variety and availability of public space to rest or to work while exploring Art Basel. Whether you were a ticket holder or not, there was plenty of space to use that was part of the exhibition. When I attended, it was also a hot summer day, and most of the public spaces were strategically located in the shadows. It's greatly appreciated because walking all day at such an event can be tiring, and having a space to relax and sit down is part of a seamless design that is considerate of the attendees wellbeing and makes the fair more inviting. 
Basel Unlimited and Galleries
I visited Basel Unlimited and the Galleries sections only briefly. Basel Unlimited stood out with its big statement pieces.
Basel Marriott Hotel
Afterwards I visited the guest rooms and event spaces at the Basel Marriott Hotel. The hotel was opened just on time for Art Basel, after its renovation (previously it was the Swissôtel). Conveniently located next to the Exhibition Center, it even has a corridor that connects the hotel to the event venue so attendees don't need to go outside to access the event. It has a variety of meeting spaces but the proximity to the congress centre allows for greater meeting and event capacity if necessary. It's very convenient, very spacious and modern. I also stayed overnight at the Basel Marriott Hotel. 
Basel card
All guests staying in Basel hotels receive the Basel Card, which gives them free access to public transport for the duration of their stay in Basel and discounts on major attractions in the city (e.g. a boat tour or the zoo). Additionally it has a wi-fi code to use in the city and I used it to access the audio guide and to find all the exhibits of the Parcours.  
Dinner at Le Rhin Bleu
Le Rhin Bleu is a restaurant, bar and lounge with a spectacular view and Mediterranean vibe and relaxed atmosphere. There's a wide selection of fish dishes and it's a fantastic place to visit in warm months. You can watch the sunset there, enjoy the view of the Rhine and direct view of the iconic Roche Towers, designed by the architects Herzog and de Meuron. 
I recommend walking there from the city centre which is a very beautiful walk and an experience in itself. I've discovered this place thanks to the recommendation and invitation for dinner by the Basel Convention Bureau, so it's an insider tip and a very nice place for groups. This place is very popular so I would also highly recommend making a reservation. 
Art Basel Parcours
On the second day I chose to visit the Parcours. The Parcours was a public exhibition with installations all across the city. These were very diverse, and included a UBS bank branch, a parking lot, garden and a tunnel; all unconventional places to display art, but at the same time, it makes you aware of how art can be expressed and presented.
My favourite location was a car park where a work by Simon Starling named A-A', B-B' was showcased. I loved the choice of location because of its simplicity but also seeing an empty car park sparked ideas about what else it can be used for. With many talks about the future of cities being car free, what could car parks look like if no more cars park there? Could they be used as venues? Or art galleries? Probably yes. It was such a huge place with lots of potential uses, such as for events.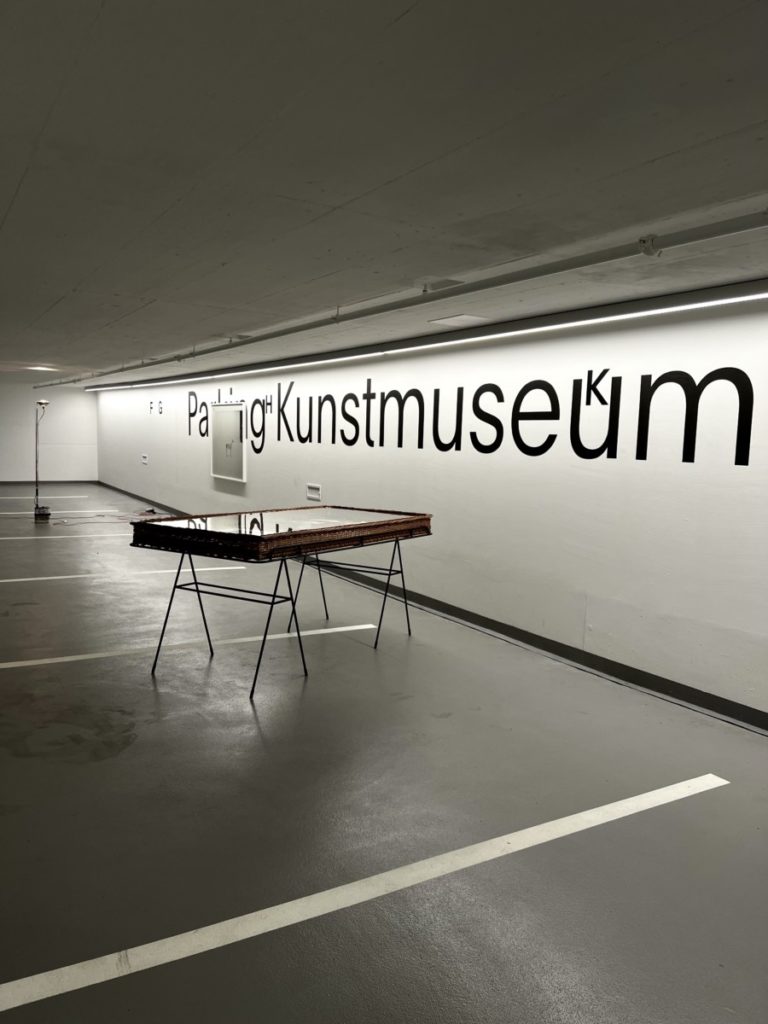 Your city guide in your pocket (your mobile)
Exploring a city with a self-guided tour accessible via your mobile allows you to take ownership of your time and become familiar with the destination on your own terms. At events in confined spaces, we often feel restricted by decorum and a desire to follow the official program; we don't know how to make our way around the city. I know that not all events can deliver such a rich city experience, but they may still encourage visitors to take their time to explore a city and some of its highlights. 
To conclude
My visit to one of the world's most famous events, Art Basel, made for a very inspiring trip. During this trip, I fortuitously received an update on the opening of the new hotel, the Basel Marriott. I discovered new parts of the city by visiting all the stations of the Parcours and the public art exhibition, and by making much of the journey on foot. An event such as Art Basel lives beyond its live version because its big media footprint showcases the art exhibits to the virtual audience. Maybe 24 hours was a very short visit, but how many people have the time to visit an entire live event nowadays anyway? Here's an important takeaway for event planners: they should consider both the remote audience and audience attending a live event, and how they interact with it, and how they will keep interacting with it when it ends.