As mentioned in my previous post, the three main sectors of MICE business in Monaco include finance, healthcare and new technologies. Major conferences around these industries are held annually at the Grimaldi Forum congress centre. But not only, the centre accommodates all sorts of events, also public exhibitions (such as the Art Lovers I visited while there), musicals, seminars, product launches and much more. It hosts even a very cool annual conference for clubbing, the Monaco International Clubbing Show (sounds like three days of party 😉 I really want to visit this show, must have lots of ideas for event planners!). Grimaldi Forum has in total 10 000 m² of exhibition space, 3 auditoriums, 22 breakout rooms and 2 spaces for catering.
Important to mention that Grimaldi Forum is a green venue and has an ISO 14001 certification. For example, the building benefits greatly from the daylight.
I was lucky to be there during the Art Lovers exhibition and see the utilisation of space.
By Subodh Gupta
Art Lovers Exhibition
On the upper floor, there is a lovely restaurant and event venue Zelo's, where we also had lunch. On the weekend it's a favourite party location but more quiet during the week (unless some major events are going on in Monaco). The venue can be also privatised on demand.
We all know it, the conference is over around 4 or 5pm, so where next? Gala Dinner? Swimming pool or beach (which might be definitely the case in Monaco) or afterwork drinks and dinner with colleagues? Decisions decisions.
I know if I would organise an event in Monaco I'll leave some free time for attendees to explore Monaco on their own, maybe will just include some suggestions in the welcome pack and let them choose. At major events not all the programme has to be scheduled from 8am until 10pm and it's important to leave some free time for the attendees for leisure or to schedule their own meetings. Also, when the conference is over, attendees don't always want the formality, maybe not event Champaign, but just a cold and fresh beer, lounge music and an informal chat.
So here I present you two such places in Monaco, that are just perfect for an informal nights out.
Stars 'N' Bars
Stars 'N' Bars is a USA style sports bar in the Harbour. Excellent service, drinks, music and big variety of dishes to choose from (Including American, Tex-Mex, Mediterranean, Asian and Indian). The most popular dish is obviously the burger. The walls indicate that the place is regularly frequented by celebrities and loved by locals. On the upper floor they have also an amazing event space, the Stardeck, for up to 500 guests cocktail style and for 200 seated. Overlooking the yachts, the venue has a stunning view by night (oh I just can't get enough of this view).
One more interesting fact: Each May, the Grand Prix 'paddocks', where the F1 drivers set up their headquarters, is located just in front of the restaurant. Not to be missed.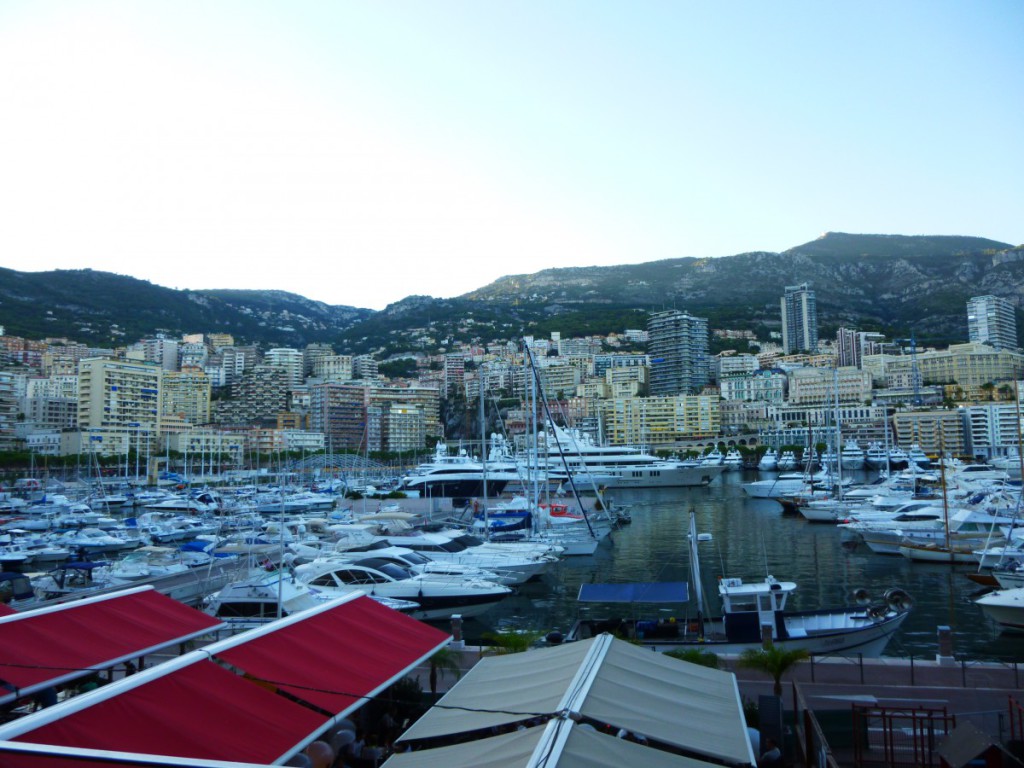 Brasserie de Monaco
If you want to skip dinner and want more snack and drinks, then I recommend you to go to the Brasserie de Monaco. Famous for brewing their own beer, you can taste a local Monaco beer. They have a live DJ playing and the atmosphere is great.
La Condamine Market
La Condamine market is the latest addition to the MICE offer in Monaco. The indoor market offers variety of food and drink stalls that if booked for a private function, the delegates can try the different vendors and enjoy a casual atmosphere with live music (Kind of Oktoberfest atmosphere). I found the idea brilliant because the logistics of this place is just perfect to accommodate guests after a long day at the Grimaldi Forum and offer them a relaxed environment with good and healthy food and chilled drinks. I had the pleasure to try the Rice & Co. stall where, as the name indicates most of the dished are rice based. Not only I tried four different rice types, they have a gluten free rice cake, which is also the best seller! On a business or private occasion, make sure to check out La Condamine Market and you won't be disappointed.
Now when I finished the post and uploaded the photos I realise how much I miss Monaco. See you soon for more venues and ideas.
If you have questions about the venues or would like to share your experience, please don't hesitate to share it in the comment section below. I would love to hear from you!
Read more posts about Monaco on The MICE Blog.
All photos: © The MICE Blog