At the beginning of October, I visited Pentahotel Leipzig. The hotel is part of the Penta Group, which has 27 hotels in Europe and Asia (Germany, Belgium, France, Austria, Czech Republic, United Kingdom and Russia), with further expansions planned in the next 2–3 years.
The history of Penta Hotels goes back to 1971 when it was founded as a joint venture of five airlines, providing accommodation for crew members to stay when on duty. The hotels were located in major airline hubs, guaranteeing high occupancy rates. In 1993, the chain was sold to a Honk Kong-based company—New World Development—and in 2007, the Hotel Group was completely relaunched as a boutique lifestyle brand. 
The Leipzig property is the flagship hotel of the group in terms of size and volume, with 356 rooms and suites and 17 conference rooms for up to 600 people, making it the second-largest conference hotel in Leipzig.
'Lifestyle is for everyone'
The Penta Group is known for its innovative lifestyle concept with the slogan 'Lifestyle is for everyone', which also makes it stand out in the Leipzig hotel scene. The Penta Group is presented on the market to revolve around their famous Penta Lounge, which can be found at every Pentahotel. The reception, bar, restaurant and meeting spaces all surround the focal point—the lounge area. This approach is highly unique and makes the Penta Hotels, and, in this case, Pentahotel Leipzig stand out. At the heart of each Penta Hotel is the Penta Lounge. Every hotel has rooms and meeting spaces, but the Penta Lounge is what sets the Penta Hotels apart. There's no separation between 'here's the restaurant, there's the bar, there's the reception'; here, everything is all together in the communal 'living room.'
The 'Lifestyle is for everyone' concept appeals to a wide range of customers. It's for modern business travellers as much as for individual travellers but also families, not limited to any age group. On the weekend, the hotel is frequented by families with kids, and during the week by business travellers and conference and meeting participants. With this lifestyle concept, this approach works impressively. 
Commitment to sustainability initiatives 
Pentahotel Leipzig stands for innovation in the lifestyle segment and promotes sustainability. According to Mr Carsten Schieck, General Manager of Pentahotel Leipzig, 'We want to be the neighbourhood hotel, that no matter in what region we operate, we want to operate sustainably with the local community.' 
Mr Schieck added, 'It's necessary to know the city where the hotel is located and provide a certain consistency. The Penta Lounge as the heart of the hotel is similar in each hotel, and it should be that way. The fundamental idea exists, and there should be a recognition factor.' 
'That way, the guests have the feeling that there's a continuity. But naturally, each hotel has their individual strengths that are relevant to their regional market. There are bigger and smaller Penta Hotels. In Leipzig, we are a big conference hotel; not all other hotels in the group have this capacity.'
The hotel group is constantly investigating new market expansions. Mr Schieck commented, 'Of course in the current situation (COVID-19), it's very difficult, but the plan is to expand, mainly within Europe (with Germany being the key market), but other possibilities will also be investigated and, where appropriate, implemented.'  
The Penta Group actively implements sustainability and engages with corporate social responsibility (CSR) initiatives. One example involves working with sustainable partners and suppliers who also have a high commitment to these topics.  
Mr Schieck shared, 'Our hotel amenities are from Zenology, a sustainable beauty and lifestyle brand. Our employee uniforms are from Kuyichi, a sustainable fashion brand. Further, in the local markets, we have individual concepts. For example, in the UK, we work with charities, where we support water projects that will be implemented in Africa. In Germany, the sustainability projects will be implemented depending upon where the hotels are located in the local communities. Here in Leipzig, we support the Leipziger Straßenkinder e.V. (street children) and the Leipzig Zoo. During the recent lockdown, we also offered activities to the local community; for example, we cooked food for families because kids couldn't go to kindergarten. We execute such projects with sustainability and enthusiasm.' The CSR activities can be spontaneous, depending on the situation (e.g., COVID-19) but also more long term, such as supporting local charities. 
Another CSR example is the 'Souper Heroes' from the Penta Group. Created last year, this is a soup donation initiative that raised over €13,000, with the proceeds going to local charities. Mr Schieck shared that they are also planning a similar Penta Group-wide initiative for the end of the year. 
Such CSR activities can also be offered to corporate groups when they choose to host their event at Pentahotel Leipzig. 'Souper Heroes' can be offered to the corporate group to take part in and raise funds, and all proceeds will go to a good cause. 
Meeting spaces at Pentahotel Leipzig 
Pentahotel Leipzig is a flagship hotel of the group and has the largest capacity (for events for up to 600 attendees). The space is booked for different types of events, conferences (sometimes with a small exhibition), seminars, social events and, for the last several months, also for hybrid events. 
Pentahotel Leipzig has 356 guest rooms and suites, 17 conference rooms for up to 600 people, 184 parking spaces (although the hotel is just a short walking distance from the main train station). The Pentalounge is open 24h, and the hotel also has fitness and gym facilities (although, due to COVID-19, it requires pre-booking). On the outdoor terrace, it's also possible to host events (e.g., BBQs). 
I spoke with Daniel Winkler, Senior Director of Convention Sales at Pentahotel Leipzig, who shared more about the type of events that take place, 'We also have events that not only take place, as traditional conferences go, from Tuesday until Thursday, but from Friday to Saturday or Sunday. The organisers have the educational part on Friday and, afterwards, a big BBQ on the terrace, offering a bleisure opportunity (combining business with leisure). One of the hotel mottos is, 'Work smart play hard'. 
One of the unique meeting spaces at Pentahotel Leipzig is the Club Lounge and the executive lounge, an area on the second floor. Mr Winkler shared that 'It makes the hotel unique because it's an executive lounge designed as a Penta Lounge but where guests have more privacy. Many business travellers use it; it offers them a quiet space. They can have breakfast and snacks there or enjoy dinner and drinks. They use it to work and meet clients.'
New requirements in light of COVID-19
Following government health and safety regulations, Pentahotel Leipzig has made the necessary adjustments to protect their guests while responding to new customer demands. Mr Winkler shared that 'One of such elements is providing more space. Organisers will request a larger space and limit the number of participants. Right now, it would be possible to host events for up to 220–250 people in one room. When we combine it with other spaces, we come up to 300–350 people, and they can be spread across the event space (typically for up to 600 attendees).'
He added, 'The buffets right now are allowed, and we offer multiple stations to spread out the attendees. Further developments in terms of catering include that the food is packaged individually or offered in individual portions to avoid gatherings around the food but, instead, provide "grab and go".'  
Another service offered in addition to the meeting spaces, with safety and hygiene measures, is the pool and fitness area. Currently, there's limited access to these areas that require registration. These areas are open 24h. 
Further, there's the outdoor terrace (weather dependent). It has radiant heaters, so it works well unless it's raining. Right now, due to the COVID-19 pandemic, people are happy to go out into the fresh air. 
Lastly, Pentahotel has a ventilation system that refreshes the air. Hence, the air isn't exchanged, but new air comes out of the ventilation system. Further, in every conference room and hotel room, guests can completely open their window to air the space. These are currently the aspects that clients pay attention to.
Health and safety COVID-19 measures to protect attendees
Mr Winkler added, 'We are following and applying the guidelines from the health ministry. We created a concept with plexiglass that fits our tables and keeps an appropriate distance between attendees. When guests enter the conference room, they have a face mask and, upon sitting down, they can remove it.'
On each station, we also have hand sanitiser sprays and markers on the floor at reception to maintain a suitable distance, without having plexiglass in between our employees and the client. We constantly disinfect tables, catering areas and, on demand, we offer pre-ordered breakfast at the meeting area. 
New type of event requests
Mr Winkler commented, 'Right now, there are no longer the requests for 400 people and a party. We currently receive requests for 50–150/200 people. The event organisers will tell us that only some of the attendees can come, or several of the attendees are from risk areas, and they ask us "what can we do so they can still take part in the event?" ' 
'What also doesn't happen anymore is that all attendees go to the bar after the conference. Further, events have become shorter; from three days, reduced to two days and one overnight stay, in the range of 50–150 attendees.'
Another new trend involves going local. Currently, Pentahotel Leipzig has a new client segment from Leipzig that previously haven't hosted their events in hotels but now need technology support to conduct virtual meetings. Mr Winkler shared, 'These requests are highly short term. There can be, for example, an important client video conference for just five people to be hosted with perhaps another 30 people remotely.' Apart from the meeting room and technology support, Pentahotel Leipzig can also provide catering for small meetings.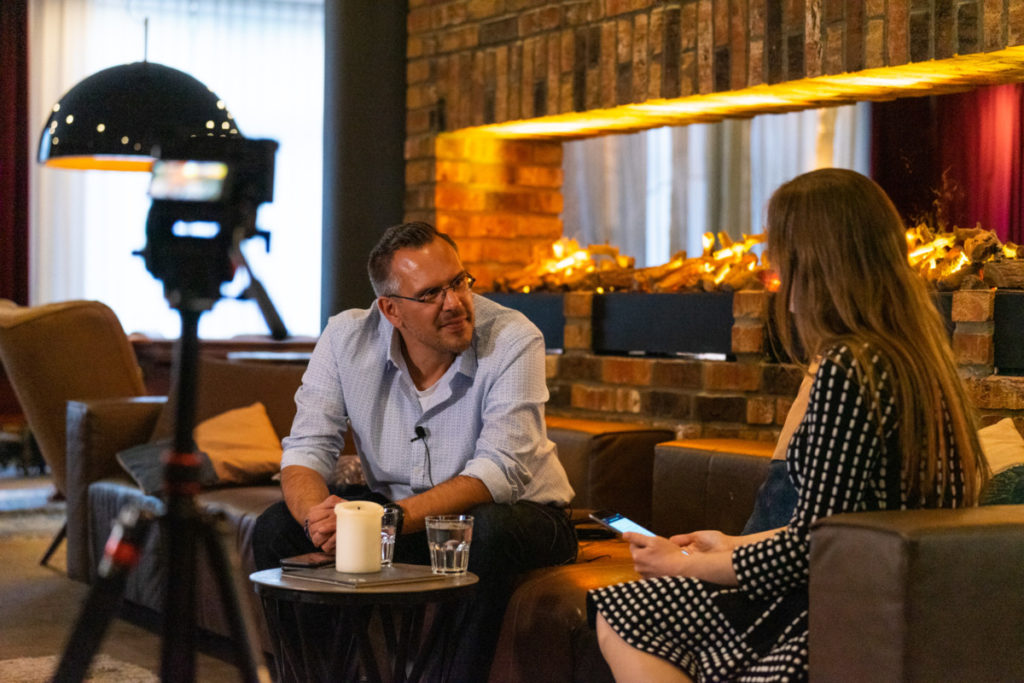 'Stay local go global' with hybrid events at Pentahotel Leipzig 
Pentahotel Leipzig has a hybrid event offering in-house services. Together with a local partner, they've built a hybrid studio in the hotel that includes all necessary equipment for a hybrid event: a highly reliable internet connection that is GDRP compliant, all necessary streaming equipment, high-quality microphones, high-resolution video cameras and onsite staff for technical support.
Because there's a requirement from clients to be offered a hybrid option, and at short notice, this capability is possible at Pentahotel Leipzig, with everything necessary to livestream and record the event being available.
Hybrid event at Pentahotel Leipzig: a case study
On the day I visited the hotel, a hybrid event took place at Pentahotel Leipzig. Ivo Hewing, Event Coordinator at VDV-Akademie GmbH, shared their experience hosting a hybrid event for 104 attendees in live attendance in Leipzig, with more speakers and attendees joining remotely. The Cologne-based association offers advanced training for the mobility sector. They typically host between 40–60 events per year in Germany, from 12 up to 700 attendees per event. 'We are doing it hybrid because we have speakers from abroad who can't travel due to travel restrictions, or also speakers who chose not to travel because the risk for them is high. So, we are doing the event hybrid, and speakers and attendees can join remotely.'
'We chose Pentahotel Leipzig because we were here last year already with another congress, and we experienced particularly good service. So, we said if there's anyone who can make a hybrid event with us happen, it's Pentahotel Leipzig. They have excellent technology, and the conference service is also impressive.'
'Now, due to COVID-19, we had new requirements for this event. The event had to take place in a hybrid format. The technology was a major factor for the venue selection so that we can have the speakers and attendees join remotely. Some of the criteria we considered included that the internet connection shall be reliable, and there must be the highest safety and hygiene measures on site. For this event, we had plexiglass that separated the attendees, and we required mandatory mask-wearing when not seated.' 
Tips for event professionals planning to host hybrid events 
The last couple of months have been a steep learning curve, and Mr. Winkler provided a couple of tips to share with event professionals planning to host their own hybrid event. 
Firstly, 'It's essential to have a partner in house, in the hotel, who supports the entire hybrid event and is there to address any questions. Many clients haven't done hybrid events before but want to host their first hybrid event. The partner needs to take the client step by step, to set up the account, explain how to send the links and connect with the speakers, among other aspects.' 
Secondly, take a couple of days to plan the event, 'It's not that you say "hybrid" and everyone understands; it's necessary to take a couple of days in preparation and to consider how to direct the event, who joins and when online. It's not like we pass a microphone between each other. No, you need a good event partner, a good technician who coordinates the remote speakers in a way that people in the room can see them, but the speakers can also see the audience and engage with them.'
Lastly, hybrid events require direction, preparation, room, technology, software and taking time to invite people while considering the different time zones. Hybrid events, as live events, require particularly good preparation. And a very last tip, what are the best lead times? Mr Winkler concluded, 'Can do immediately, but recommended is at least five days to prepare everything!'
Photos: Thomas Loris