Everyone is familiar with one side of Stuttgart's story—its fame as the birthplace of the first car and its dominant presence in the automotive sector. Yet, there's a less explored narrative that's now emerging.
There's a lot happening in Stuttgart right now, especially in its transformation into a leading destination for sustainable events.
Attending Urban Future event
A prime example of Stuttgart's green transformation is the Urban Future event I attended last June. It drew over 2000 participants dedicated to sustainable urban development. I listened to speakers discuss efforts to make the city livelier for its residents. 
One of the sessions I attended was called 'If Stuttgart must not become Detroit, what will it become?' and it highlighted city transformations that can be seen also in Stuttgart. 
The city attracts new talent to avoid population decline and brain drain and besides the automobile industry there are other clusters in the Stuttgart region. These include quantum computing, green tech, medical technology and AI. 
The Baden-Württemberg International initiative creates a link between government, academia and industry to anticipate the 'next big thing' and make the region attractive for businesses and investment. That includes adapting and anticipating changes in education, vocational training and research. 
These are examples of companies that are based in the Stuttgart region:
Mercedes Benz
Porsche
Bosch
IBM
Hewlett-Packard
In addition to global brands, the region thrives on the Mittelstand, or medium-sized enterprises (SMEs).
One of the highlights of the event was a dining experience around a 72-meter-long table set on Tübinger Straße, a street specifically designed for bicycles after car traffic was restricted, the first of its kind in the city. The dinner featured rescued vegetables that would have otherwise been discarded. This concept, first introduced at the event, proved successful and serves as a model for other cities.
After experiencing the Urban Future event I came back for a more extensive site visit. 
From 17-18 August I visited seven venues that are centrally located around the city centre, either accessible by foot or under 30 minutes by public transport. 
Transport in Stuttgart
Stuttgart has excellent connectivity, with an international airport, train routes to domestic and international cities. One of Europe's most modern main stations is currently under construction in the city and will open soon, significantly reducing travel times. Additionally, Stuttgart has efficient road networks. The city promotes public transport by offering free tickets to attendees who book their hotel stays through Stuttgart Marketing.
Let's dive into exploring Stuttgart's centrally located and easily accessible venues:
Mercedes-Benz Museum: Stuttgart's Automotive Legacy
The Mercedes-Benz Museum in Stuttgart, birthplace of Daimler, showcases the city's pioneering spirit in mobility.
The museum showcases over 160 vehicles and 1,500 exhibits, capturing key automotive milestones from 1886 to now.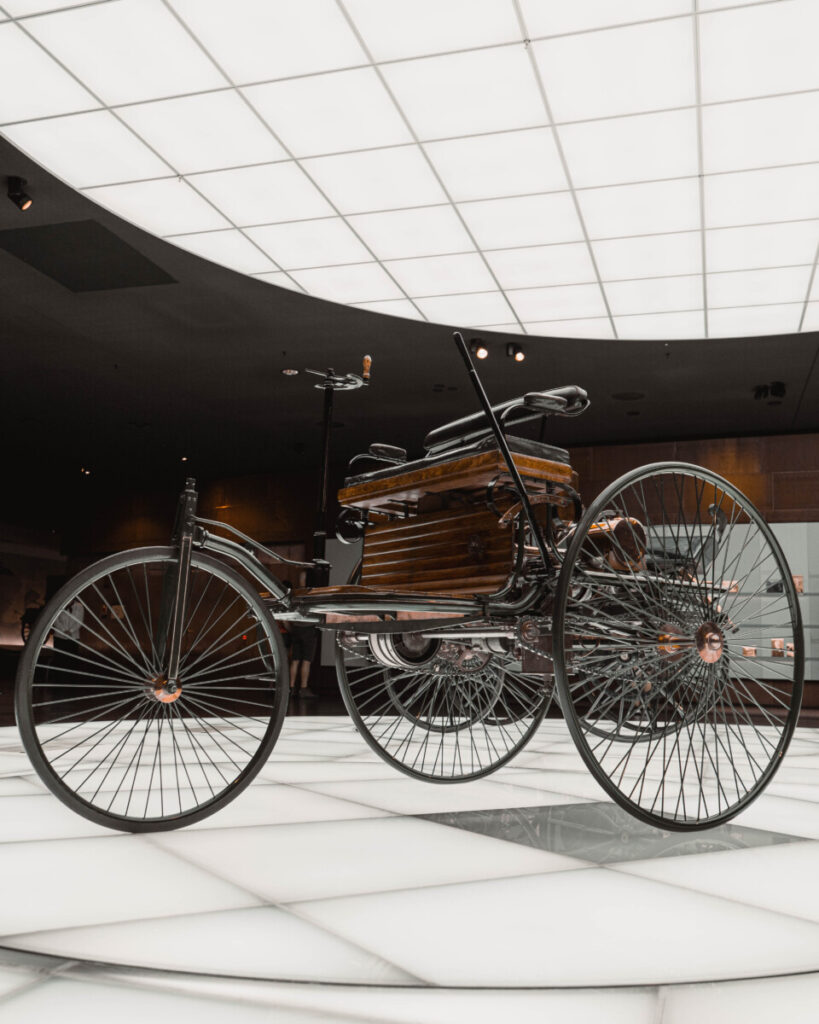 These exhibits not only highlight automotive advancements from 1886 to the present but also parallel world events. For instance, automakers Gottlieb Daimler and Karl Benz gained significant attention at the 1889 World Exhibition in Paris when they presented their vehicles. 
For event planners, the museum offers major advantages for hosting events. 
Exclusive access: it can be privatised for events outside regular hours, giving guests an intimate and exclusive experience. 
Space flexibility: There are three dedicated event spaces, the largest can accommodate up to 350 seated guests. Event rooms have natural daylight, and from the Casino room, attendees have panoramic views of Stuttgart's landmarks like MHPArena, VfB Club Training facilities, vineyards, and the historic Grabkapelle auf dem Württemberg.
The museum is closed on Mondays to the public, but private events can still be held on the exhibition floor. On other days, the three meeting rooms are available throughout the day.
Standout architecture: The building's design resembles the spiralling structure of DNA. This, to me, symbolises Stuttgart's legacy in the automotive world. Further, the museum's construction materials, such as aluminium and glass, represent the materials found in the automotive industry. Every detail tells a story.
Social programmes: the venue can organise driving events, guided tours of the museum to better understand the history of the brand to the world. A guided tour focusing on architecture is also an option.
Advanced technology: the museum has a possibility to host hybrid events with streaming and webcast offerings available in house.
On-site catering: the venue has on site catering with locally sourced ingredients. 
The venue has all in house what event planners need, and with exclusive access to this museum it's a one-of-a-kind experience.
Choosing a venue like the Mercedes-Benz Museum is a blend of history and future, and it's sure to leave a lasting impression on your attendees. 
You can read more about event venue specifics here. 
V8 Hotel Motorworld Region Stuttgart
A destination within a destination, the V8 Hotel and Motorworld Region Stuttgart is a hotel and an event venue. It's just outside Stuttgart in Böblingen, 30 minutes by public transport from the Stuttgart main train station.
The original V8 Classic hotel with 34 rooms, saw a surge in demand. To cater to this, the V8 Superior Hotel was added in 2018 with an additional 153 rooms. Among the total 187 rooms, 26 are uniquely themed. 
The hotel is a hotspot for car enthusiasts, but also for those looking for new experiences, something different, unique with history and a personal touch. Guests will find small auto themed items in the rooms, such as car shaped chocolate, hand soap and a pan, and the design in public spaces is a mix of retro and modernity, all car themed.
Key features:
Rooms: I stayed in the 'Made in Germany' room, which is inspired by the luxury and quality of Mercedes-Benz's 1970s S-Class, specifically the W 116 model. In the 1970s, Mercedes-Benz's S-Class was synonymous with luxury and quality, being well-made, reliable, and safe. 
Spacious 37m², bright, and perfect for business travel with fast internet, it's a different experience from the business hotels where I usually stay.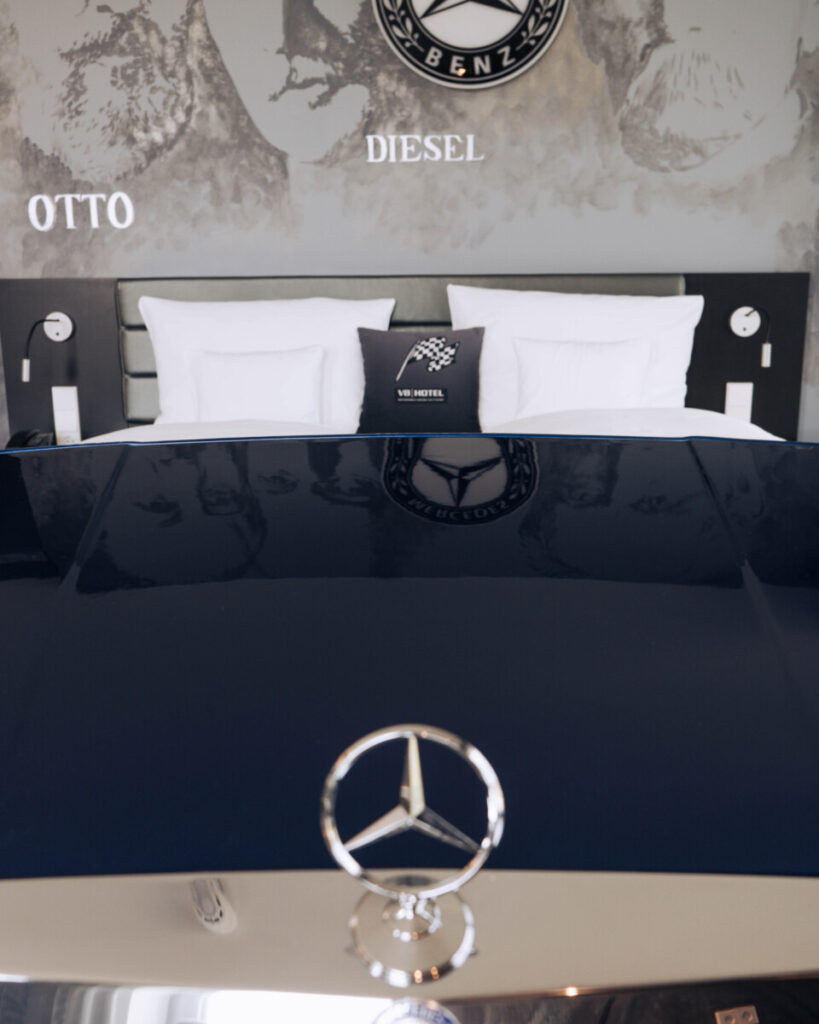 Gastronomy: The breakfast was a personal highlight. They display information about where the food on the buffet comes from and I've never seen this elsewhere before, and it's a fantastic idea to showcase sustainability in a transparent way. 
The gastronomy offering on-site includes the restaurant and bar, with dedicated event catering for events. The hotel also offers food and beverage workshops, so it's all under one roof for guests' convenience. 
Because of the exclusivity of the themed rooms they are well booked in advance, so it's worth browsing through the website before booking, or alternatively choosing to be surprised. There are many anecdotes about the hotel, one of them is that a couple gifted their car to become one of the cars in the themed rooms, and since, this couple has been coming to stay in this room. When you are there you feel the personal touch and passion that has been put into designing this hotel and it adds a special experience staying there, and understanding why it has so many repeat guests. 
The hotel has a strong commitment to sustainability through its Gold DEHOGA sustainability certification. This certification has the following requirements: 
Energy, water consumption, and waste reduced by levels 30% better than the average.
At least five products must be sourced directly from the region or produced in-house, supporting local businesses.
Inclusion of at least one Fair Trade product in their offerings.
Event spaces: 
Two primary spaces, Speed (273 m²) and POWER (395 m²), can accommodate up to 200 seated guests. The three flexible meeting rooms have the capacity for up to 90 people. 
A special feature in this venue is the heavy-duty elevator that allows transport vehicles weighing up to three tons to the event areas and integrate them into events. 
Learn more about venue specifics of the V8 Hotel and Motorworld Region Stuttgart by visiting their website. 
MOTORWORLD Region Stuttgart
The MOTORWORLD Region Stuttgart, situated directly opposite the V8 Hotel, stands out as a unique event venue with a rich history. 
Located within walking distance of the tube station, the venue also offers quick connections to the Stuttgart Airport and fairgrounds. The surrounding area is green for recreational activities like walking or jogging.  
MOTORWORLD's unique concept revolves around a frequently rotating display of privately owned vehicles showcased in glass boxes. Vehicle owners have 24-hour access to their vehicles and external guests can view the variety of vintage and sport cars. 
Additionally, a section of the venue focuses on car sales, restoration, services, and rentals. 
Originally, this location was a state airport in the 1920s and where Hanns Klemm played a significant role in the German aviation industry by developing the light aircraft. A replica model of this personal aircraft is presented at the MOTORWORLD Region Stuttgart.
Following World War II, the airport, which had been occupied by American forces, underwent significant changes in the 1950s. The old airport building was torn down and subsequently rebuilt. This reconstruction aimed to maintain the ambiance of the original airport, drawing inspiration from historical photographs.
Guests can experience a blend of historic charm and modernity at this venue. Besides the historical elements, there are offerings like guided tours, flight simulators, and racing simulators.
Since its reopening in September 2009, the venue has expanded its facilities. Today, it has 14 conference rooms and 6 theme-based restaurants. One of the rooms I viewed was the JU-52-Lounge, an aircraft-themed room complete with an authentic pilot chair and suitable for 9 people. 
I also saw the Arthur-Dünkel-Lounge kombi. This room gets plenty of daylight and has a good view on the cars showcased in the boxes. This space is for up to 130 seated guests. 
The venue has six restaurants: an Italian trattoria, a steakhouse, an in-house brewery, a global cuisine spot, a pop-up kitchen for private events, and a bakery.
Legendenhalle at MOTORWORLD Region Stuttgart
MOTORWORLD Region Stuttgart's largest space, the Legendenhalle, has over 1.000 m² of space and accommodates up to 650 seated guests.
Unique Features:
Can be combined with the adjacent Hangar space and the corporate area.
Natural lighting during the day.
Adjustable lighting for evening events.
Suitable for a variety of events: conferences, parties, photo shoots, product launches, galas and motorsport events.
Full experience: Gastronomy, accessory shops, art galleries, and simulators.
Blending its rich history with a car theme and modern facilities, MOTORWORLD Region Stuttgart provides a unique event experience to remember.
Learn more about MOTORWORLD Region Stuttgart for your next event by visiting the website. 
Cultural and Congress Centre Liederhalle (Kultur- und Kongresszentrum Liederhalle)
The Kultur- und Kongresszentrum Liederhalle in Stuttgart, often simply referred to as Liederhalle, has a rich history that's intertwined with the cultural and social life of Stuttgart.
The original Liederhalle was built between 1955 and 1956. It was constructed to replace the previous hall that had been destroyed during World War II. The name 'Liederhalle' translates to 'Song Hall,' reflecting its initial purpose related to choral singing. 
In 1991 a conference extension was added for the venue to become a modern congress centre.
In 2019, the venue was renovated to include enhanced fire protection, updated stage equipment, modern event technology, and improved building control and network systems. After 18 months of renovation, the venue reopened in 2020.
Located in the city centre, the Kultur- und Kongresszentrum Liederhalle is one of the city's largest modern event venues. It's complemented by the Maritim hotel, the largest hotel in downtown Stuttgart.
Attendees can easily reach the venue on foot or by public transport from the main train station.
The two biggest event spaces:
Beethoven-Hall has a seating capacity of 2,089. It is renowned for its exceptional acoustics, distinct architecture, and a permanent concert organ. Its three-dimensional sculpture allows each spectator to have a good view of the stage, thanks to its asymmetrical shape. It also has a water fountain that can be operated during an event for added ambiance. The Beethoven-Saal's design with teak, alder, and maple woods offers top-tier event acoustics.
Hegel-Hall has a seating capacity of 1,869. Opened in 2020, it features hydraulically adjustable hall podiums, allowing for flexible space configurations. The scenery hoists in the stage area provide rapid and seamless scene transitions, ideal for dynamic theatrical performances and elaborate set changes. Moreover, its point hoist system ensures precise placement and movement of stage equipment, enhancing the versatility and production value of any event held there. 
It further has 2 separate galleries, a separate two-level foyer, 4 interpreter booths, 4 boxes, and a VIP room with direct box access.
Both the Beethoven-Saal and Hegel-Saal have a separate foyer for drink receptions, networking, and exhibitions.
Additional Spaces: 14 event and conference rooms accommodating 16 to 752 attendees.
Another unique selling point of the Kultur- und Kongresszentrum Liederhalle is that it has 555 rooms next door, at the MARITIM Hotel Stuttgart. The hotel is also a catering partner for the location.
The venue has a strong commitment to social, economic, and environmental sustainability. It takes a proactive approach in working with the event organiser to deliver a sustainable event. 
Here are the ways they do this:
Social – The venue website is accessible, with functions like adjusting the size and contrast of the font. All entrances are wheelchair-friendly. Accessible lifts are available across all foyers, and disabled restrooms are provided. For standing concerts, a dedicated podium for wheelchair users can be set up. Walking aids can be stored outside the venue with prior arrangement. Public transport is conveniently nearby, and designated disabled parking spots are marked in adjacent car parks. The Beethoven and Hegel Halls feature a hearing loop system, offering optimal reception in the stalls area. This ensures attendees can clearly hear speech and music without background noise.
Economic – The venue collaborates with local foundations and supports local businesses by purchasing from local and small businesses. Also, employee clothing is produced in the state of Baden-Württemberg from organic cotton.
Environmental – The venue offers the possibility of CO₂ compensation via the GlobeClimate initiative to reduce environmental impact, promotes sustainable transport options with public transport and the conference ticket, and has other initiatives like prioritising seasonal decorations and having a water management and water-saving systems in place. Additionally, the venue has placed two beehives on the rooftop of the Hegel Hall, recognizing the vital role bees play in our ecosystem. By aiding in plant pollination, bees ensure the availability of seeds and fruits that both humans and animals rely on for sustenance, thus contributing significantly to the preservation of biodiversity.
More about the sustainable initiatives can be found here.
To learn more about venue specifics visit the website.
MARITIM Hotel Stuttgart
With the largest room capacity in downtown Stuttgart and adjacent to the Kultur- und Kongresszentrum Liederhalle, MARITIM Hotel Stuttgart is a top choice for large business events.
The hotel was renovated in 2016. This renovation included all its 555 bedrooms and suites, the bathrooms, the kitchens, the conference rooms and public areas.
Its highlight event space is the Stuttgart Riding Arena built in 1885. It provides a unique setting for events of up to 700 participants seated. The Riding Arena can be combined with the Galerie room to increase the space up to 750 people seated. 
The next biggest space is the Maritim Hall for 350 people, with further 14 smaller rooms for events from 12 people. 
For the convenience of conference attendees, Maritim has designed a special concept called the Meet @ Maritim Meeting Lounge. This lounge offers coffee and fresh snacks. When multiple meetings take place on the same day, attendees from all events can access the Meet @ Maritim Meeting Lounge, allowing them to network with participants from different events.
MARITIM Hotel Stuttgart has its signature bar, the piano bar, that is open both to hotel guests and external guests. 
It also has a swimming pool, sauna and a small fitness studio, a hair salon and a Beauty Lounge. 
From the end of September until Christmas the hotel constructs a mountain hut outside the hotel for an alpine atmosphere. The hut can accommodate up to 100 people and is a perfect location for a christmas party with a dedicated winter menu, including Brettljause (board snack), pork roast with crispy crust, or delicious Kaiserschmarrn (shredded pancake), as well as fresh Stuttgart Hofbräu draft beer, Austrian wines, and fine Tyrolean schnapps. 
Driven by a commitment to green hospitality, the hotel integrates sustainable practices in its daily operation:
Catering:
Prioritises the use of seasonal and regional products, with a particular focus on fruits and vegetables.
Features 'Fair Trade' products and offers a diverse menu including vegan and vegetarian options.
Eliminates single-use plastics in the dining areas. Beverages are mainly served in reusable packaging.
Guest Experience:
The hotel team receives specialised training in sustainable practices, covering areas like technology and waste management.
A partnership with Deutsche Bahn, the national railway operator, encourages eco-friendly travel to the hotel.
Guests are provided with a 3-day public transportation pass when booking the stay through Stuttgart Marketing website as an incentive for sustainable commuting.
The hotel participates in the Sustainability Check Baden-Württemberg programme, a tourist destination certification by the state for eco-conscious hospitality.
Adjacent to the hotel is the Bosch quarter, which offers additional leisure facilities and gastronomic experiences.
To learn more about venue specifics visit the website. 
Waldhotel Stuttgart 
The Waldhotel nestles within Stuttgart's forest. Before its 2007 transformation under current ownership, the Christian Association of Young People (YMCA) had leased the building since around 1910. The association included construction of a summer house and a recreation home. 
The city of Stuttgart owned the estate from 1934 until 1952 when the YMCA transformed it into a guest hotel. In 1981, following significant renovations, it operated as the three-star 'Waldhotel Degerloch'. The property was sold to its current owners in 2007 and, after extensive refurbishments, reopened as a four-star establishment in 2011. 
Recognizing its exceptional service, the German Hotel and Restaurant Association granted it a 'Superior' rating in 2012, elevating it to a Four-Star Superior Private Hotel status.
With 96 rooms and 6 meeting spaces, it can accommodate up to 100 people in a theatre-style setting.
I had the pleasure of staying at the Waldhotel Stuttgart on my second night in the city. I stayed in a single room in the Superior Category, which featured a balcony facing the forest. The ambiance was very peaceful. When opening the balcony door, guests can hear the sounds of rabbits and birds. It's a truly beautiful experience.
In the evening I had dinner at the Restaurant Finch. I chose a vegan main course because it stood out on the menu card and I wasn't disappointed. The menu is updated every 2-3 months as it sources most of its frequently used products, like fruits and vegetables, from within a 100 km radius. The wine list has 70% local selections with no overseas wines.
The hotel offers six event spaces accommodating between 20 and 100 guests. The event rooms are flooded with natural daylight and a very welcoming and calm atmosphere surrounded by greenery. Incentives, team building events and training can particularly benefit from choosing this hotel. The agency partner, Die Schrittmacher, can guide the group to explore the forest, host an olympics or a 'balance challenge' among other activities.  
In summer, the sun terrace is a special highlight, perfect for drinks receptions and networking. Direct access from meeting rooms ensures seamless movement between the spaces. 
And for the ultimate experience, the hotel also has a relaxation area with spa, steam bath, ice fountain, adventure shower and a gym. 
What really stands out about the Waldhotel Stuttgart is its commitment to sustainability. 
Here are the actions the hotel is taking to lead the way in sustainability: 
Since 2020 the hotel has been awarded with the GreenSign level 5 which is the highest level possible. This certification is a leading sustainability certification for the hotel industry in Europe. 
The materials in the rooms are local, for example, the material in the bathrooms is natural stone from the Swabian alb. Since this special material requires a special treatment, only ecological and natural cleaning products are used.
The hotel extends sustainability to its laundry and procurement processes, ensuring shorter supply routes.
The hotel generates 70% of its energy in-house through photovoltaic panels.
Guests have access to the 'Naschgarten' in the hotel's garden. It includes raspberries, blackberries, and other seasonal growing healthy snacks that the guests can eat.
Herbs from the herbal garden are used for the kitchen and bar drinks (e.g. – peppermint, rosemary, chive).
The hotel has planted its own vines over the past few years and is offering sweet grapes this year.
Employees are committed to sustainability, undergo regular training, and strongly uphold sustainable values.
A dedicated 'Green Team' of employees spearheads sustainability initiatives, both for staff awareness and guest experiences. They meet regularly, dedicating eight hours per month to brainstorm eco-friendly strategies and occasionally visiting suppliers for insights. Ideas range from rewarding guests with a bar voucher for towel reuse to innovative upcycling projects, such as transforming wine corks into Christmas wreaths for charity.
During the sustainability days of Baden-Württemberg, the hotel organized a forest cleanup in the area where it's located, collecting rubbish from both forest roads and off-road areas.
From its rich history to its strong commitment to sustainability, the Waldhotel Stuttgart offers a blend of luxury and eco-consciousness.
Learn more about the specific room configurations and other hotel services by visiting the website. 
Stuttgart TV Tower (SWR Fernsehturm Stuttgart)
The Stuttgart TV Tower is unique for being the first of its kind and for its innovative engineering solutions that became a blueprint for later towers.
The Stuttgart TV Tower has the most beautiful views over the city extending to the Black Forest at 144 metres above ground level.
The venue has three options for events:
Events at the top of the tower with capacity of up to 60 people seated – at 144 meters above the ground and 360° view as far as the Schwarzwald and the Odenwald it's by far the most spectacular view over the city and beyond. The catering is provided by the restaurant Leonhardts that caters both to the restaurant at the top of the tower and at the ground level.
Restaurant Leonhardts at the ground level provides a capacity of 100 people seated with an additional 40 at the terrace. The restaurant offers a variety of workshops such as cocktail making, gin tasting, wine and cheese tasting, BBQ and other creative and seasonal activities suitable for groups to book.
Private guided tours at the bottom of the tower invite guests to learn about its pioneering work in the world of engineering and construction for several reasons:
First reinforced concrete television tower: The Stuttgart TV Tower was the world's first television tower built using reinforced concrete. Before its construction, most broadcasting towers were made of steel lattice.
Ring foundation: Instead of the traditional heavy, solid slab foundations used for tall structures in the 1950s, the tower's engineer, Fritz Leonhardt, innovated by using a ring foundation with a core diameter of 27 meters. This design significantly reduced the tower's sway.
Tendon stabilisation: To prevent the ring foundation from bursting under its immense load, the design used a radial wire bundle made of high-strength steel. These tendons, akin to the spokes of a bicycle wheel, stabilise the ring foundation by maintaining tension, a method not commonly used before this tower.
Protection against corrosion: The tensioning wires, crucial for the tower's stability, are protected from corrosion from groundwater through a thin protective concrete slab.
Architectural symbol: Beyond its engineering achievements, the Stuttgart TV Tower is also significant as an architectural symbol. Its success led to the widespread adoption of this construction method for subsequent TV towers around the world like Frankfurt, Dortmund, Johannesburg or Wuhan.
Guests visiting the tower will be fascinated to hear and see this engineering genius. Moreover, it holds the potential for UNESCO World Heritage status.
Learn more about the specifics of Stuttgart TV Tower by visiting the website. 
Conclusion
This trip presented me with Stuttgart positioning as a sustainable city and constantly evolving city. Stuttgart stands out as both a cosmopolitan and international city with a rich history. It has an extensive venue offering with modern infrastructure and a good selection of unique venues. Its accessibility is a big advantage. Also referred to as a '15-minute city,' most venues can be reached by walking, cycling, or a short ride on public transport. This characteristic makes Stuttgart particularly appealing for events aiming to implement sustainable practices.
Furthermore, the strong collaboration between the Stuttgart Convention Bureau and local stakeholders, combined with the visionary approach of the venues regarding sustainability, ensures that event planners are in competent hands and receive the comprehensive support they need.
Sponsored post in collaboration with the Stuttgart Convention Bureau.
Header photo: Aerial view on Schlossplatz in Stuttgart, Nizam Ergil, Getty Images/ Canva