Event Planners are constantly on the lookout for new and emerging MICE destinations that will exceed the expectations of even the most well-travelled and experienced business travellers. Such meeting destinations should be yet unexplored, but at the same time easily accessible, have modernised infrastructure and diverse offerings for incentive activities that can be organised alongside the business programme. I'm thrilled to introduce you to the newest meeting destination of Denmark, located on the South Western coast, Esbjerg, with the surrounding Ribe, Fanoe Island and the Wadden Sea.
From 14–15 October 2019, Thomas Loris and I visited Esbjerg with Meet & More, which forms part of Business Esbjerg, to experience first hand what this region has to offer for corporate events and to relaunch the concept of Meet & More. The name in itself is self-explanatory, meaning that this is a meeting destination, but when event planners choose to host their event in Esbjerg, there is much 'more' to this. Event planners can integrate an experience into nature, explore the UNESCO World Heritage Site of the Wadden Sea National Park or take a short ferry trip to Fanoe Island. And furthermore, an important aspect is the strong industry focus and the core business areas of Esbjerg, which are strongly linked to the energy sector. 
Pia de Place, Project Manager Business Tourism at Business Esbjerg and the first point of contact for event professionals wanting to organise an event in Esbjerg, met us and showed us all the venues and activities on both days. I asked Pia about the relaunch of Meet & More, which 'started in 2014; at the time, they had done a lot of branding and designing the offering for business tourism. Afterwards, it was on standby for a few years, and upon me joining the organisation in 2018, I looked into the MICE offering together with Business Esbjerg and decided to evaluate this again and relaunch the MICE product'. 
Pia continued to share what makes the region so attractive for MICE, 'Destination Esbjerg and the South West of Denmark have huge possibilities to have these meetings and make them special and unique, a combination that is not possible anywhere else. During the first year after joining, I did a lot of research into what we have and what can be combined to determine whether it will make sense, and now as the next step, we take this product to the market and see how people react. Earlier this year, we exhibited at The Meetings Show, and in November we're exhibiting at IBTM in Barcelona; apart from the trade shows, our activities also include spreading the word by inviting a MICE blogger for the first time to report about this region'. I'm extremely honoured to be provided with this opportunity!!!
The highlight of this region is the experience, which is indeed hard to put to words. Pia shared that the common feedback she hears from attendees who came to Esbjerg is that 'You can't explain what I have experienced'. Past event delegates highlighted that they love the facilities and making nature part of the meeting. 
According to Susanne Nordenbaek, CEO at Business Esbjerg, who we also met during this visit, 'What is pretty unique in the region is the access to nature, particularly the Wadden Sea, which is a UNESCO World Heritage Site, and the interesting fact that Esbjerg is close to the oldest town in Denmark, Ribe, and Esbjerg is the youngest city of Denmark. There are unique features and experiences for the meeting guests that can only be found in this region. For example, you can pick your own oysters and have sparkling wine (produced locally) along with it, or when you visit the oldest city in northern Europe, Ribe, you see scenic houses, museums and the cathedral, and when you go to Esbjerg, you experience the green transition. We, as companies and individuals, are engaged in climate goals, and here in the North Sea, you will see how this is happening. The wind turbines produce green energy that supports not only Esbjerg but also all of Denmark'.
Then, Susanne talked about the plans for the near future, 'In the next 3–5 years, we'll take this product, this region, out and present it to the MICE segment, particularly both the German and UK markets as well as the Nordic region. We are convinced that what we have here is highly unique and spectacular that delegates can only experience here, and we want to bring it to the customers and see if they also think this way. Because we are new on the market, we are the new meeting destination of Denmark, so we need to go out there and determine whether the customers agree with us, and that will take us a couple of years. At the same time, we are also working with the industry here in order to get them to work together and present this region as one destination to the customers. Currently, there are 46 partners, including hotels, meeting venues, unique venues and experiences'.
Arrival at Billund Airport
The gateway by air to Esbjerg is via Billund Airport, Denmark's second-largest air hub with about 4 million annual passengers. It's only a 1-hour flight from Frankfurt; there are five daily flights between Frankfurt and Billund, and about 80 percent of this traffic to/from Frankfurt is for connecting flights, with Frankfurt serving as an international air hub for overseas flights for the south-west of Denmark. Additionally, there are five daily flights to Amsterdam, three to Bruxelles and two to Paris, among other major European destinations. 
We met Henriette Lauristen, Tourism & Trade Manager at Billund Airport, who is also responsible for supporting MICE groups travelling via Billund Airport and who works closely with Meet & More. Henriette told us, 'MICE groups can take advantage of the newly renovated lounge which seats 300 people, so if event planners want to add extra comfort to their delegates coming to Esbjerg, they can have drinks and food there before the flight'. Then, she talked about the close collaboration with Meet & More, 'The airport has a very good collaboration with Esbjerg, so if Meet & More wants to submit a bid for a conference, the airport can provide support by providing the necessary information on accessibility from all around the world'. 
For those arriving at Billund, there is a bus once an hour going between Billund and Esbjerg, but it's also possible to arrange shuttle buses for larger groups.  
Ribe, Denmark's oldest merchant town
Our first stop was Ribe, Denmark's oldest merchant town. We had a guided walking tour with a local guide, Sven Pedersen. This tour lasts at least 1.5 h and enables exploration of the old town and the cathedral, an impressive building built in 1,150; however, the tour can also have a different focus, such as the old medieval town or the Viking period.
What makes visiting Ribe so unique is that in just a short period of time, you can go through 1,300 years of history because the town is particularly small and walkable, so on each street, you will be introduced to a new story.
You will see the beautiful old buildings that were rebuilt after the great fire in 1,580 and flooding but remained in their original style because the residents at that time could not afford to rebuild them using the latest modern approaches. Each building is different from the next in its shape and colour, so it's highly enjoyable strolling along the little streets and admiring this historic city. These unique houses are privately owned, but when a gate to the backyard is open, tourists are also allowed to enter and enjoy the special atmosphere. Ribe is also very small, so tourists frequently ask Sven: 'Do you know everyone in town'? The answer to this question tends to be 'pretty much everyone!' 
Old Town Hall 
The Old Town Hall in Ribe is a historic building built in 1496, originally built as two houses. In 1708, they were acquired by the City of Ribe and used as a town hall from 1709. This town hall was constructed in a medieval style and is one of the last medieval buildings still remaining in Ribe. In 2007, the municipalities of Ribe and Bramming merged with the Municipality of Esbjerg, and the building no longer had the function of being Ribe's official town hall. Since 2008, it has served as a commercial venue and can be booked for events. The house has maintained its history serving as a governmental institution, and portraits of past mayors and honorary citizens can be found hanging on the walls. 
The biggest event space is the assembly hall, with the largest capacity suitable for up to 70 people in a theatre style and 80 people for receptions. Upon arrival, we had our lunch in this room, which was provided by an external restaurant and catering from the Porsborgs Gastro Bar.
Hotel Dagmar: the oldest hotel in Denmark
Next to the Old Town Hall, event organisers will find the oldest hotel in Denmark, Hotel Dagmar. The proximity of both venues allows organisers to also easily use both the Town Hall and Hotel Dagmar if required for various functions.
We met with Amanda Urup Jensen, sous chef at Hotel Dagmar who told us about the hotel and MICE offering, 'The hotel was built in 1581 after the big fire in Ribe in 1580. After the fire, two thirds of the houses were burned down, and this building was among the first to be rebuilt shortly afterwards. It was the wealthy people who could afford to build brick houses, and this building was the first brick house constructed after the big fire. The hotel and its interior remained true to the time by being built to preserve its history, with most of the walls and floors cracked. The 48 rooms are highly charming and adjusted and renovated according to the oldest hotel vibe that the hotel aims to retain'. The hotel has two restaurants, one fine fining on the ground floor and a second in the basement that is more casual with a larger variety on the menu, whereas the fine-dining restaurant is with multiple courses and a set wine menu. Amanda concluded, 'We try to give our guests an experience every time they are here, and we'd like to be thought of as an experience hotel and not just a standard hotel.' 
The largest capacity for conference guests is for 120 people, and the hotel can offer everything in-house. It's ideal for groups who want 'something else' in addition to their meeting. 
Hotel Britannia and dinner at Mundheld
We stayed overnight at the 4-star Hotel Britannia in the centre of Esbjerg. The hotel has completed its renovation in public areas, and rooms will be soon finalised as well. We met with Helle Tingberg, General Manager at Hotel Britannia, sharing some insights behind the renovation, 'The hotel began its renovation on the 1st of January 2019, starting with the lobby area, the reception and the restaurant. Before, the design involved rather 'cold' colours, just black and white, and the new owners decided to 'take nature inside' and make it green, with many green motives and warm wood materials. The new thoughts behind the concept are ecology and sustainability. The green colour dominating the hotel lobby is a result of using a particularly special technique that creates a velvet-like effect and comprises an attraction itself for our guests'.
One of the sustainability elements in the hotel is the recycled furniture. For example, the carpets are made by a local company that collected plastic bottles from the ocean and weaved the carpet from that plastic. Another original way that the old furniture was reused involved taking the old elevator door and converting it to a bar table, 'Each old piece of furniture was re-evaluated—asking whether we could paint it or use other material on it, rather than just throw everything away. And what the hotel couldn't use was either sold or given to charity, so the hotel tries to think 'more than us.' The hotel's meeting facilities are suitable for events for up to 160 guests for a banquet, and it has 108 guest rooms. 
Afterwards, we had a 3-course Nordic fine dining experience at the hotel's Mundheld Restaurant, taking familiar ingredients prepared in a new and surprising way. The first course was whitefish roe with mussel sauce, parsley oil and dried parsley; the second course was veal with spinach puree, quail thigh and morel/sherry sauce; for dessert, we were served pear terrine, pear sorbet with crystallised gold chocolate, and green sorrel and pear granite. It was exquisite!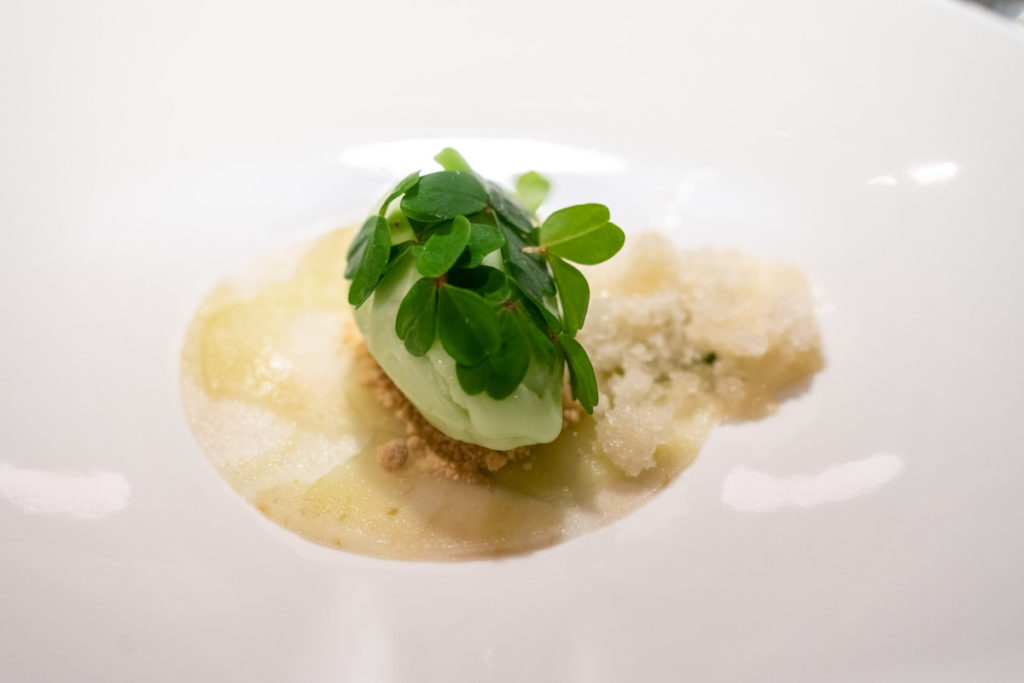 Technical tour of the Port of Esbjerg
The following morning started with a guided tour of the Port of Esbejrg with Kurt Mathiesen, who is the assistant harbour master at the harbour administration at the Port of Esbjerg, 'The port was established in 1868, and the reason for that was because Denmark lost the war against Prussia and Austria. As a result, Denmark lost 48% of its land area and needed a new site to take care of its agricultural exports to the UK. As a result, the harbour was built in Esbjerg; at the time, only 20 people lived there, and there was no city, so the city was built because of the port'. 
There are three main industries operating in the port, with 250 companies employing around 10,000 people. These companies are working within three core business areas: 1. intermodal transport; in Esbjerg, this entails roll-on and -off trailers and new cars. 2. the oil and gas industry, with the Danish base facilities for the offshore fields and 3. the wind industry. 
It was fascinating to see the transition happening from oil and gas to wind energy. We also closely saw the magnificent wind turbines being loaded to be later installed offshore and all the massive and dedicated ships and cranes that execute this work and lay the foundations and pipes in the North Sea. 
Fishing and Maritime Museum 
After the guided tour, we continued to the Fisheries and Maritime Museum in Esbjerg. In addition to having two interactive exhibitions, the spaces in this museum can also be used for corporate events. We visited two exhibitions. The first was about 'Energy from the Ocean – Danish offshore in the North Sea', portraying the history of the oil and energy production. This exhibition was 12 years in the making, and because during the time energy production had shifted to renewable sources, an additional section about wind energy was added to this exhibition to demonstrate this transition. 
The second impressive exhibition had the title of, 'An Incredible Danish Fishing Venture', portraying the story of the local fishermen. This exhibition celebrates 150 years of fishery in Esbjerg. It was incredibly touching to read some of the personal stories of the individual fishermen and their families who had dedicated their lives to this trade, which was so fundamental to Esbjerg until 2000, when Esbjerg was Denmark's largest fishing port and had the country's largest fishing fleet. Now, this is no longer the case. The museum is a unique venue suitable for corporate events, with capacity for 120 people for banquets and 200 people for receptions. 
EfB Konference
Our next stop was a sports venue that can be used as a conference venue. Until that time, we had visited rather smaller venues, but the next two—the EfB Konference and Concert Hall Musikhuset—are two of the biggest ones in Esbjerg, with capacity for over 1,000 participants.  
The EfB Konference can execute events across the various buildings of the Sport and Event Park Esbjerg (SEPE). Here, events can take place both indoors and outdoors, and there are dedicated event lounges and spaces to fulfil corporate functions. It can host events as large as for 17,000 people, when the EfB and Sport and Event Park Esbjerg collaborate on the venue and provide the event services. 
Here, event planners have a large scope of choice regarding how to design their event due to the large space capacity and because the sports facilities on site can be used. These advantages allow event planners to combine meetings with active and competitive challenges, another great way to highlight the 'Meet & More' concept!  
Concert Hall Musikhuset
The second major venue in Esbjerg is the Musikhuset, which has 1,125 seats at their main concert hall and capacity for 1,300 guests in the foyer. It was designed by the Danish architect Jørn Utzon, who is notably famous for designing the Sydney Opera House in Australia. The main hall was built in 1997 and is spacious and filled with daylight, whereas the concert hall, which was built in 2010, is darkened, which creates a strong contrast when attendees enter the concert hall for a presentation and exit afterwards into the bright space. 
Both spaces can be used for corporate events, with original event formats being implemented in the concert hall. For example, attendees can listen to the presentation, during which time their gala dinner will be set up on the same stage behind the curtains without anyone noticing. 
Another interesting feature of this concert hall is that it's suitable for car launches. Cars can be either hidden behind the curtain for the reveal, or they can be mounted on the front stage in a surprising reveal (this stage can be lowered by 4 m). 
Trip to Fanoe Island: Blokarting and brewery
In the afternoon, we took the Ferry to Fanoe Island, the nearby small recreational island. The trip takes only 12 minutes by ferry from Esbjerg and provides participants with a new mindset and atmosphere. Organisers can also make these 12-minute rides an experience! Pia surprised us with a coffee and delicious local treats from Temper Chocolate, a local chocolatier in Ribe. The mix of cream puffs was salted caramel, hazelnut nougat, gooseberry and blackcurrant. If you happen to be in Ribe, I can highly recommend that you try them because they are so delicious and you can't get them anywhere else!! 
On Fanoe Island, delegates can do blokarting or kite flying and afterwards, they can be rewarded with a well-deserved beer tasting and oysters event at a nearby local brewery Fanoe Bryghus, which we also visited.
Fanoe Bryghus was founded in 2006, and they produce 34 different types of beers; they are recognised by the highly bold and colourful logos on their bottles. Although they do export particularly small quantities to France, Germany and Sweden, they mainly serve the local bars and restaurants, so this is another example of things you can experience only in this region. It sounds simple, but sometimes such events are the ones that stay so memorable and distinctive to the locality. This brewery has an event space suitable for up to 100 people for a banquet. 
Tirpitz Bunker and Amber Museum
The last venue on our visit was the Tirpitz Museum. This particularly historic venue maintains evidence from the Second World War, with a bunker that was built to protect the entrance to Esbjerg. The war ended before two bunkers were complete, and visitors can now visit the southern bunker, which is also a small event space for about 70 people. 
The entire museum can also be hired for events for approximately 500 people. It's a magnificent space made from predominantly concrete, steel, glass and wood. If you are looking for a unique venue, this is a highly appropriate venue due to its past and will generate interest and curiosity. Organisers can also provide audio guides for those delegates who may be interested in learning more about the history of this museum. 
Men at Sea
And what better way to conclude this trip than by visiting the iconic Men at Sea sculpture. It's located next to the Fishing and Maritime Museum, and a must-see when in Esbjerg. This last stop was particularly special because we also met a journalist from a local newspaper, Jydske Vestkysten, who published a short article about our visit. This trip was very special because we were the first media outlet to present this destination to the European MICE market. Past attendees stated that, 'You can't explain what I have experienced', and I fully agree with their statement. So, this blog article is only half the story—you will really need to experience it yourself! 🙂
Photos: Thomas Loris