Back in May, I attended Exclusively Corporate at IMEX Frankfurt. Exclusively Corporate is a conference specifically designed for the needs of corporate event managers. It offers a full day of education and networking during EduMonday, which takes place one day prior to the exhibition—this year EduMonday was held on 20 May 2019. In July, I shared with you a recap of a session delivered by Gerd De Bruycker, Marketing Director, Northern Europe at Cisco Systems regarding 'Connecting events with your overall marketing mix.' This time, I want to discuss a summary of the panel session regarding innovation, online and offline events, destination selection criteria and measuring ROI. The panellists were Bob Bejan, General Manager Global Events at Microsoft, Gerd De Bruycker, Marketing Director, Northern Europe at Cisco Systems, Danielle Purfey, Executive Director, Events & Meetings at KPMG US and Nicola Wedge, Head of Events at Barclays UK. The session was moderated by Pádraic Gilligan and Patrick M. Delaney, managing partners at Soolnua. 
Defining innovation in corporate environment 
According to the panellists, innovation is redesigning what's already there, not always maintaining the status quo, but rather looking at how to tweak various aspects and how to improve or change them. It doesn't necessarily need to be complicated. Another way to look at it is that innovation is the new, fresh and different, but when working in a risk-averse environment, is it necessary to think about change before that change happens. 
Innovation can be seen in the broader context—it's like creativity in that it can mean different things to different people. Usually, innovation is associated with that 'bright idea,' or a shiny object, but it can also be in the small things, such as a change in a process or the way of talking to people or addressing things. 
There can be a particularly pragmatic approach to innovation that happens from the bottom up, where employees and internal stakeholders are called to submit their ideas, which will later be rewarded. But when looking at innovation within the context of event marketing, it's about empowerment. That means convincing the stakeholders and allowing the employees to be creative and have fun in what they do. If this is limited due to frames and being risk averse, people will not feel empowered. It's ok to let people fail, the world is not going to end. Another way to look at innovation is to have focus areas, where management can check with the team on a regular basis, brainstorm on the progress and make the team aware of certain aspects they weren't aware of before so they can think about it differently.
How to deal with senior management that don't have a vision for events?
An example was suggested from an event, where based on attendee feedback, attendees weren't happy with the traditional event format of keynotes, sessions and the exhibition and wanted something different. The data-backed feedback led to an idea to create a theme park instead of having a keynote room. This idea led to more thinking, designing a brief and pitching it to decision-makers. 
The team who came up with this idea thought it was innovative and would be effective, but it took another two years of pitching, hosting the event two more times and gathering further data from attendees against these two event editions of the old event format to get the company to provide an opportunity to execute the new concept. When this concept took place, it worked out incredibly well, exceeding all expectations. What was particularly fantastic to see was that the team behind this project was pitching and believing in it consistently over two years, showing to those who were sceptical about it and for them to say, 'oh that's what you are talking about.' It's about persistence and the willingness to keep pushing and take that risk—that is the way to build loyalty, fandom inside the company and support over time. 
Each company has different types of stakeholders, and there are those who don't understand the purpose of events but others who support them, and part of that is how is the event team positions itself among the stakeholders. The role of the event planner is evolving to be hired as business professionals that are skilled across the board to do a lot of different things and who require a depth of industry knowledge. The moment the team is positioned and branded differently in the eyes of the stakeholders, they begin to see the value differently as well. If there is a stakeholder who is not coming along, it's possible to ask them questions, such as: What is it that they don't understand about events? And, do they think that there could be more value there? When receiving the answer, it's necessary not to take it from a planner perspective but from that specific stakeholder perspective and what they are trying to accomplish. It is recommended to let them have that experience so they can see that differently, and certainly once that happens, they then become the best advocates because they have had the experience. Event teams shouldn't be afraid to ask questions of their stockholders. Because if the stakeholders are not coming along, don't guess, just ask. 
Another key aspect is also relationship building with the executives. When event teams build trust with them, they can push and get new things done. Lastly, look out for advocates within the leadership because they will be in a position to convince others. 
What is the future of the online environment and how to maintain that initial engagement from people who are interested and keep the level of engagement as time progresses? 
Both online and offline events will continue to exist. Looking back 10–15 years ago, there was a trend that everything would go virtual, that people would not travel anymore and would not come together, but history has shown exactly the opposite, with even more events taking place. However, there is also much more online now with regard to content. Therefore, a combination of the two—online and offline—depending on what the company is trying to achieve is the way forward. And sometimes, an online event could be a better option than a physical one. 
How to engage someone in the online environment, instead of the attendee being just present? In the end, it's about the quality of the lead. There may be many people online, but how many are the right ones? After the event, it's necessary to continue to communicate with the audience, attempting to provide them with the additional information they are looking for. Expect to have a lot of dropouts. It is also necessary to understand the community and their needs and what works for them. Online events are particularly good for communities, and as the next step, combining online and offline by having community meet-ups is a highly effective way of looking at the combination of online and offline contexts. The online event doesn't take away from the face-to-face relationship building. It goes both ways, online to offline, but also offline to online, where everything that happens live is distributed online. Everything that is being produced in the physical space can be equally transferred to the live experience and audience—think of a television show, for example. This aspect has to do with keeping the audience engaged and being able to capture their attention to watch an online keynote longer than the first four minutes.
On the digital side, the lines are becoming blurred between live and digital because there are digital experiences happening at all live experiences, starting from registration, the event app and the connections that are being made. Chaptering and labelling digital versions of the live experience so the audience can 'page through' and get to the meat of the subject is key. When the audience sits and watches something live, and takes it, tolerates it and are engaged by it. When people are watching it in the online space, they need to get to the meat much more quickly, so it involves different programming as would be experienced at a live event. 
Top criteria for destination selection among corporate event planners 
Pádraic shared an online poll of 64 corporate event planners regarding the top criteria for destination selection, with number 1 being infrastructure around spaces, facilities and accommodation; in second place was access, and third place was value for money. In fourth place was destination appeal, fifth was safety and security, and the last criteria was MICE infrastructure (CVB, DMC, PCO etc.).
Then, Pádraic compared this poll to two polls from previous years in 2017 and 2018, where in 2017, the number 1 top criteria for destination selection was safety and security, number 2 was access, and number 3 was value for money. So he asked the panellists the question, 'Have we got over the era when safety and security is a top criterion for destination selection?'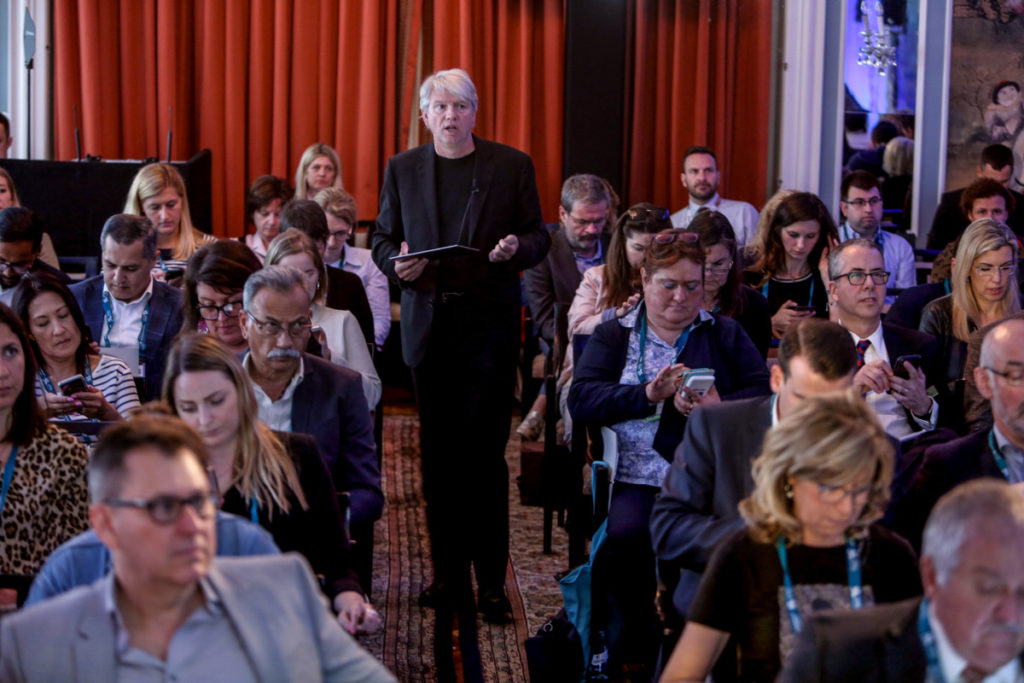 The panel suggested that companies have put measures in place to feel more secure. Today, events carry out more and more identity checks before someone can enter a building, and that creates a safer environment. Furthermore, people have become used to the new reality and learned to live with it. Big companies have security teams, who do a lot of work in the background. So to answer the question, it's not any longer the main criteria in destination selection, but the companies are highly mindful about what they do and how they approach the topic of security. The security procedure should be regarded as an experience for the attendee, and shouldn't be a burden for them (for example, too slow or long queues.) It has to go fast, but attendees should also feel good about it. 
Security is a learned skill, and event planners can also work closely with their security teams. 
ROI – What value is being put on event investment, and how is it being measured?
The notion of attempting to find ROI is the most important aspect when hosting an event. What is most interesting in this process is the ability to capture data and start understanding it. Firstly, customer acquisition is a core metric and has real value. Secondly, to start understanding the current customer set of the company, the people who come to the events who are actual customers, and understanding that when they walk into an event what the pipeline of active engagement is with the sales team and watching it for the following 120 days. As the next step, observing three things: first, do more opportunities come into the pipeline during those 120 days, or do more opportunities close? An interesting aspect that can be observed among strategic accounts is that, out of the accounts who come to the events, the acceleration of closure is faster than for the accounts that don't come to the events. That can translate to tangible value and how that accelerates and creates more opportunity among the account teams. 
Another way to look at measuring ROI is that within a big organisation, there are many isolated groups that calculate their ROI for themselves (e.g. event, marketing, learning teams collect and keep their own event data). A possible way to determine ROI is to look at the journey and all the touchpoints, and at what touchpoint the prospect becomes a customer, as well as being able to track this information closely. By having a number of touchpoints in a central database that all departments can access and track it will help to make the ROI more tangible, and as a result will help to put up the right event, for the right reasons and for the right people.  
Photos: IMEX